350°F Belt Conveyor Oven from Grieve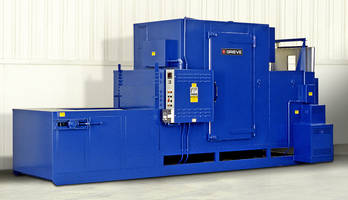 No. 897 is a 350°F (177°C), belt conveyor oven from Grieve, currently used for preheating trays of parts prior to potting operations at the customer's facility. Workspace dimensions of this oven measure 36" W x 120" D x 15" H. 30 KW are installed in Incoloy-sheathed tubular heating elements, while a 6000 CFM, 5-HP recirculating blower provides vertical downward airflow to the workload.
This Grieve belt conveyor oven has a 48" long open belt loading zone and a 10' long insulated heat zone with recirculated airflow. Features include a 30" wide, 1" x1" high carbon steel flat wire conveyor belt with 1/4-HP motor drive, variable from 1.4 to 27 inches per minute. Additional features include 4" insulated walls, aluminized steel interior and exterior and a manually operated vertical lift door at unload with viewing window. The oven also has a photo cell to automatically stop the belt when parts reach the unload position.
Controls on the No. 897 include a digital indicating temperature controller, manual reset excess temperature controller with separate contactors, recirculating blower airflow safety switch and SCR power controller.
For more information, please contact:
THE GRIEVE CORPORATION,
500 Hart Road,
Round Lake, Illinois 60073-2835 USA.
Phone: (847) 546-8225.
Fax: (847) 546-9210.
Web: www.grievecorp.com.
Email: sales@grievecorp.com.
Attention: Frank Calabrese.
More from Fluid & Gas Flow Equipment