35+ Years of Helping Stop False Fire Alarms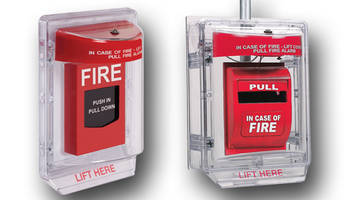 September 6, 2017 - STI announces their Stopper II® pull station protective cover, which mounts directly to the wall over an existing pull station, has helped stop false fire alarms for over 35 years.
When the cover is lifted, a self-contained alarm sounds, drawing immediate attention to the area. The cover helps deter pranksters from triggering false fire alarms, reducing unnecessary business interruptions or evacuations. When a real alarm is needed, the cover does not restrict legitimate fire alarms from being activated.
"Since we recommended the installation of STI Stopper II covers over our manual pull stations, false fire alarms have ceased to be a problem," states Robert Lindstrom of Will Rogers Airport Fire Department.
The Stopper II is UL/cUL Listed, FM, and ADA Compliant. Three year guarantee against breakage of polycarbonate in normal use (one year on electro mechanical and electronic components).
To order or for more sales information on the STI Stopper II or the entire Stopper® Line, call 800-888-4784, fax 248-673-1246, email info@sti-usa.com or visit www.sti-usa.com.
STI's address is:
2306 Airport Road,
Waterford, MI 48327-1209 USA.
Tel 248-673-9898
Fax 248-673-1246
Contact This Company Download Spec Sheet
More from Agricultural & Farming Products