3020 Tow Tractor Lift Truck offers Seegrid Vision technology.
Press Release Summary: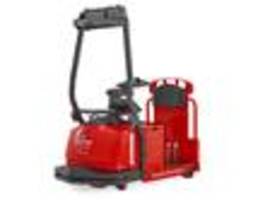 Designed to automate horizontal towing in number of operations, 3020 Tow Tractor Automated Lift Truck can tow up to 10,000 pounds weight. Delivering longer battery life with precise speed control, unit measures time in automated mode (man-off) versus manual mode (man-on). Including iWAREHOUSE fleet management system, device helps customers gain greater visibility into their automated and manual mixed fleets.
---
Original Press Release:
RAYMOND INTRODUCES 3020 TOW TRACTOR AUTOMATED LIFT TRUCK
The Raymond Corporation, in collaboration with Seegrid Corporation, introduces the Raymond Courier™ 3020 tow tractor automated lift truck. The new truck is designed to automate horizontal towing in a number of operations, including the transfer of parts to production lines, and finished goods to warehouse facilities. Towing up to 10,000 pounds, the Raymond Courier 3020 combines Seegrid's expertise in automation with Raymond's end-to-end warehouse solutions and lift truck proficiency for a combined answer to the industry need for automating repetitive and time-consuming hauls that are labor intensive.
"Raymond Courier automated lift trucks use Raymond's patented rPort™ technology, which allows for an open architecture with a standardized interface. The result is a standard Raymond lift truck with both man-on and man-off automated functionality for handling peak loading needs," said Chris Merta, product manager of automated products at The Raymond Corporation. "Designed with flexibility in mind, the Raymond Courier automated lift trucks are equipped with Seegrid's unparalleled Vision technology for automated guidance, and its ergonomic design and arch shape enhance operator performance."
The Raymond Courier 3020 features the Raymond® ACR System™, which delivers longer battery life with precise speed control, less downtime, and reduced cost of ownership. With the addition of the iWAREHOUSE fleet management system, customers gain even greater visibility into their automated and manual mixed fleets. Time in automated mode (man-off) versus manual mode (man-on) is measured and reported through iWAREHOUSE and can be compared to entirely manual vehicles to ensure optimal usage of each type of vehicle.
iWAREHOUSE, in conjunction with Seegrid's Supervisor software, provides the most robust tracking and reporting of mixed-technology fleets in the industry, optimizing uptime by reporting unit status of the combined fleet. Seegrid's Supervisor software provides an intuitive yet robust business rule framework for easily integrating automation into existing operational systems.
"Seegrid's collaboration with Raymond represents the next step toward Industry 4.0, the industrial revolution combining the power of automation technology with the insight of big data. In this new industrial environment, intelligent, driverless vehicles operate collaboratively alongside their human colleagues," said Jeff Christensen, vice president of products for Seegrid. "Our powerful Vision technology enables vehicles like the Raymond Courier 3020 to autonomously perform the time-consuming task of moving product across the warehouse floor, freeing up employees to focus on higher-value operations."
Raymond automated lift trucks are sold, supported, and serviced by The Raymond Corporation and its entire network of more than 100 authorized Sales and Service Centers, which offer customers local support and service.
For more information on the Raymond Courier 3020 tow tractor automated lift truck or to locate an authorized Raymond Sales and Service Center, visit www.raymondcorp.com or call 800-235-7200.
About The Raymond Corporation
The Raymond Corporation is a global provider of end-to-end warehouse solutions, fleet management, forklift training and support to increase efficiency and lower costs throughout material handling operations. Raymond® forklifts are engineered to achieve higher performance, enhance operator comfort and increase efficiency. Raymond manufactures a full line of forklift trucks — including reach trucks, pallet jacks, pallet stackers, sit down and stand up forklifts, orderpickers and turret trucks. The iWAREHOUSE® fleet management and warehouse optimization system provides solutions to manage industrial vehicle fleets, labor efficiencies and warehouses. Additionally, flexible automation, customized solutions and industry-leading consultation from Raymond further enhance and streamline processes while helping customers to drive down costs. Raymond is a recipient of the 2015 Manufacturing Leadership Award from Frost & Sullivan.
About Seegrid Seegrid, the pioneer and leader in three-dimensional vision navigation, provides unique and revolutionary automation technology for materials handling. Engineered with state-of-the-art Seegrid Vision, industrial trucks are transformed into the next generation of automated guided vehicles (AGVs): vision guided vehicles (VGVs). VGVs navigate without wires, lasers, magnets, or tape and they deliver unmatched flexibility. Designed for simplicity and reliability, the Seegrid flexible automation solution is available in a line of pallet trucks and tow tractors.
Experience the maximum benefits of VGVs with Seegrid Supervisor to manage, monitor, and control a fleet of vehicles within the context of your operation. Generating economic advantages and operational efficiencies, VGVs optimize workflow processes, increase productivity and throughput, and reduce labor and operating costs, all while improving workplace safety, reducing equipment and product damage, and delivering a rapid return on investment. www.seegrid.com
More from Agricultural & Farming Products