2D Laser Scanner aids manufacture of PC boards.
Press Release Summary: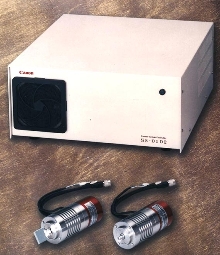 LS-1M100 consists of laser rotary motor encoder and dedicated controller. System controls medium and high inertia mirrors in applications requiring laser marking and laser processing. It offers scanning angle of +/- 25 deg with rotor inertia of 35.3 gcm-sq, providing positioning resolution of .02 arc sec or less. Applications include laser trimmers, LCD repair devices, and rapid prototyping machinery that generate 3D models directly from 3D-CAD data.
---
Original Press Release:
New High Speed 2D Laser Scanner from Canon Encoders Represents Savings for Manufacturers

Lake Success, NY. Canon Semiconductor Division, Encoder Group today unveiled the new LS-1M100 high speed, high precision 2D Laser Scanner system with advanced technology that reduces manufacturing costs and increases uptime.

Ideal for the manufacture of PC boards, particularly in portable electronic devices, the LS-1M100 consists of a specialized Canon laser rotary motor encoder and dedicated controller. The system controls medium and high inertia mirrors in applications requiring laser marking and laser processing such as high-density printed circuit boards.

The Canon LS-1M100 features a high scanning angle of ±25 deg with a rotor inertia of 35.3 gcm-sq. This will provide a positioning resolution of .02 arc seconds or less. The ultra-compact design enables the system to control the laser beam's scanning action in miniaturized environments where physical space is limited and therefore extremely valuable.

Unlike the performance degradation and downtime observed with laser scanners that employ galvanometers for beam control, the Canon LS-1M100 obtains superb temperature characteristics. This is achieved by incorporating digital servo controllers and encoders with diffraction interference systems, which make use of the diffraction of laser beams.

The LS-1M100 2D Scanner greatly contributes to cost reduction by increasing uptime at the manufacturing site, when incorporated into laser board-processing equipment. Beside portable electronic device manufacturing, it has applications in areas that require high precision, including laser trimmers, LCD repair devices and rapid prototyping machinery that generate three-dimensional models directly from 3D-CAD data, as well as
optical spectrum analyzers for optical communications.

For more information, contact Mr. Ron Travis, Canon U.S.A., Inc., Semiconductor Division, Encoder Products, One Canon Plaza, Lake Success, NY, USA 11042 Tel:(516) 328-4611 Fax: (516) 328-4601 E-mail: rtravis@cusa.canon.com Website: www.usa.canon.com
More from Chemicals & Gases