Mining Truck offers 320 ton capacity.
Press Release Summary: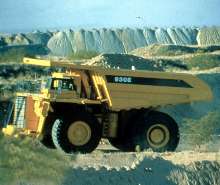 Model 930E-3 AC electric-drive truck is powered by 2,700 hp, SSDAl6V160 16-cylinder engine, and is capable of speeds up to 40 mph. It can climb at altitudes up to 12,000 ft without fuel deration. Hydraulic-activated, oil-cooled multiple disc braking system allows truck to decelerate without frequent use of brakes. During propulsion, wheel slip reduces nonproductive wheelspin in low-traction conditions.
---
Original Press Release:
Komatsu's 930E-3 3 Mining Truck Combines Proven Technology with New Design Features
o 320-ton capacity truck capable of speeds up to 40 mph o Ultra-class truck leader in overall reliability and cost improvement Vernon Hills, Ill. - December 15, 2003 - For superior power and performance in tough, deep-pit mining operations, Komatsu America Corp. introduces the newest member of its ultra class truck family, the 2,700 hp, 930E-3 AC electric drive truck with a 320-ton capacity. Designed to provide increased productivity, lower cost per ton hauled and improved speed and control, Komatsu's electric drive trucks spend more time operating (and cost less to operate) by replacing easily worn, frequently replaced mechanical components with electrical ones. Powered by a high performance Komatsu SSDAl6V160 16 cylinder engine, the 930E-3 is capable of speeds up to 40 mph and is 15- to 20 percent more productive unit than 240-ton trucks, at a 5-10 percent lower operating cost per ton dependent on the application. The Komatsu 930E-3 AC drive truck also provides enough torque and speed to get up and off ramps easier than mechanically driven trucks and is capable of climbing at altitudes up to 12,000 ft. without any fuel deration. "The 930E line has been in operation since 1996 and is a proven product in worldwide copper, gold, tar sand and coal mining applications," says Josh Wagner, Komatsu product marketing manager for mining trucks. "Our main objective in upgrading to the Dash-3 was to reduce our customers' operating costs. We've done this through a new, improved transmission and drive system components that add greater product reliability and performance." Improved Vehicle Control & Handling The AC drive system upgrades, manufactured by GE Transportation Systems for 320-ton truck applications, feature an alternator designed with an in-line high volume blower (12,000 cfm air capacity) for consistent operation, a new longer-life transmission and a higher capacity retarding package for longer brake life and improved operation. "These new design features will improve the reliability of the truck and provide optimum productivity and performance, and ultimately reduce operating costs by 10- to 15 percent," Wagner says. The GDY106 motorized wheel design with a 24,000 hour targeted MTBO transmission has larger gearing, new material sun pinion, larger low speed bearings, stiffer carrier assemblies, ground ring gear, increased frame coupling and frame coupling bushing thickness, removable inboard thrust washer retainer (for easy onboard replacement) and enhanced ability to drain the gear case. "Although these improvements are unique to the Dash-3, we wanted to make sure we kept the truck designed so there is significant component interchangeability between the Dash-3 to the Dash-2. If a customer has 60 trucks on site, they will not have to completely restock parts inventory," Wagner says. Smoother Operation Komatsu's fully hydraulic-activated, oil-cooled multiple disc braking system allows the 930E-3 to decelerate without frequent use of the brakes, permitting safe travel at higher speeds - even down long, steep slopes. For increased braking efficiency, the 930E-3 has a maximum dynamic retardation force at 5,400 hp during the first two and a half- to three-minutes. After that, it goes into continuous retarding 3,300 hp for continuous downhill hauling. An 18-element grid box achieves continuous retarding with continuous dissipation at 3300 hp. Combined with superior dynamic retarding capabilities, which help reduce service brake wear, these systems help provide excellent vehicle control and handling, whether heading uphill or down. A traction system with slip/slide control aids performance and operator safety. The slip/slide control operates independently of the service brakes. During propulsion, wheel slip reduces nonproductive wheelspin in low-traction conditions. During dynamic retarding, wheel slip prevents wheel lockup and subsequent sliding. In addition, emergency brakes are automatically applied prior to the hydraulic system pressure dropping below the level required to meet secondary stopping requirements. Built for Rugged Conditions High-tensile strength and abrasion resistant steel castings at all critical stress transition zones gives the 930E-3 truck a rugged and tough body construction able to withstand the rigors of off-highway hauling. The truck's full butt-welded sectional ladder-type frame is designed for long-term durability. Frame components include integral ROPS supports and front bumper, rear tubular cross members and rugged continuous horse collar. Operator's Environment Safe & Comfortable Keeping operators safe and comfortable in their environment is important for keeping productivity levels high. The Dash-3's elongated wheelbase and improved suspension provides a smoother ride, reducing operator fatigue. The cab is equipped with an integral 4-post ROPS/FOPS structure, adjustable air suspension seat with lumbar support and arm rests, maximum R-value insulation, tilt and telescoping steering wheel, electric windshield wipers w/washer, tinted safety glass power windows, Komatsu PLM III payload weighing system, 55,000 btu/hr heater and defroster, 21,600 btu/hr air conditioning (HFC - 134A refrigerant.) In addition, an optional air-suspended buddy seat is offered to keep trainers and supervisors comfortable while on training sessions or ride-alongs. For operations that have decibel level standards or external noise regulations, an optional noise attenuation package reduces component noise while still keeping the grid box, radiator and exhaust systems at acceptable operating temperatures. Improved Maintenance and Serviceability Features The Komatsu 930E-3 is designed with features to troubleshoot problems and minimize truck downtime. These systems are designed for all open pit and surface operations and include: Vehicle Health Monitoring System (VHMS) - an integrated maintenance system that provides self-contained diagnostics, a preventive maintenance scheduler and Load Map machine performance history. The VHMS displays the various machine conditions and maintenance status (hours remaining to the next oil and filter replacement), sends messages to the operator or service personnel and stores data automatically when abnormalities occur. VHMS alerts operators and technicians to operational problems prior to failure - allowing proactive maintenance to occur and the machine to remain operational for longer periods of time. It also takes the guesswork away from the technician by pinpointing specific problems as they happen. When serious problems do arise, maintenance technicians and engineers are able to tackle problems effectively and guarantee that a machine experiences no more downtime than absolutely necessary. PLM III (payload monitoring system) - PLM III provides the operator with accurate figures detailing the weight of the payload, the gross vehicle weight of the truck, cycle times and empty vehicle weight. Able to store up to 5,208 downloadable records of the aforementioned data, this can serve as a critical tool in monitoring truck production and preventing overload conditions that can place unwarranted stress on components. Optional Modular Mining Systems (MMS) ready Intellimine® - Komatsu has partnered with Modular Mining to make its trucks Modular Mining ready so they can be linked immediately or at a later date. This system uses high precision GPS mine planning package information, a wireless radio network and onboard Color Graphics Consoles (CGC) to provide continuous guidance to operators. It gives operators a comprehensive view of the pit and real-time positioning of the truck and every other piece of equipment in the region. It even posts updates on everything from cut and fill requirements for dozers and local hazards. Komatsu America Corp. (KAC) is the second-largest manufacturer and supplier of construction, mining and utility equipment and parts and services in North America. Visit Komatsu America's website at www.komatsuamerica.com.
Related