25-Watt LED Forklift Warning Light is powered by 8.8aH lithium ion battery.
Press Release Summary: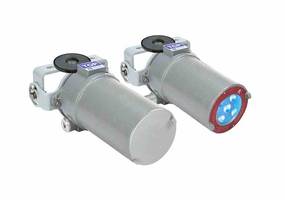 EXHL-TRN-RPS-LE4-FKWL-BLU-M 25-Watt Rechargeable Blue LED Forklift Warning Light is made of extruded aluminum material. Unit is operated in a temperature range of -40° C to 60° C and comes with an adjustable magnetic mount. Suitable for warehouses and delivery bay applications, product is equipped with an unbreakable polycarbonate lens and delivers 2,250 lumens. Light offers narrow 5º spot beam and is NEMA type 3, 4, 4X, 7 (B,C,D) and 9 (E,F,G) rated.
---
Original Press Release:
Larson Electronics LLC Releases Explosion Proof Rechargeable Blue Forklift LED Warning Light
Larson Electronics LLC, Industrial lighting expert, has released a new 25-watt explosion proof rechargeable blue LED forklift warning light that runs on a rechargeable lithium ion battery. This unit produces 2,250 lumens of intense blue light to indicate the pathway of the forklift, warning pedestrians of ongoing operation. This forklift warning light is ideal for hazardous locations such as warehouses and delivery bays.
The EXHL-TRN-RPS-LE4-FKWL-BLU-M from Larson Electronics is a 25-watt rechargeable explosion proof LED forklift warning light which produces 2,250 lumens of intense blue light as a real-time notification to nearby pedestrians and works of ongoing forklift operation. Standard forklift warning systems have strobe lights that can hinder operator visibility and/or audible alarms which can irritate workers and pedestrians who have to listen to the constant beeping. The EXHL-TRN-RPS-LE4-FKWL-BLU-M addresses both issues. The five, 5-watt LEDs in this unit are combined with high purity optics to produce a narrow 5º spot beam, visible during the day and night. This explosion proof LED light operates on a rechargeable 8.8aH lithium ion battery with 8 hours of runtime and is Division 1 and 2 rated in Classes I, II and III.
The EXHL-TRN-RPS-LE4-FKWL-BLU-M housing is constructed of extruded aluminum and NEMA Type 3, 4, 4X, 7 (B,C,D) and 9 (E,F,G) rated, waterproof to 3 meters, and resistant to the buildup of dust, dirt and humidity. An unbreakable polycarbonate lens covers the blue LED light. This unit can operate in temperatures of -40° C to 60° C, and is inherently resistant to shock and vibration. An Adjustable magnetic mount allows operators to control the tilt and rotation of the LED.
"Standard forklift notification systems can be very annoying and distracting with strobing lights and constant alarms," said Rob Bresnahan, CEO of Larson Electronics LLC. "Using a blue steady burn LED eliminates the irritation and still efficiently notifies workers and pedestrians of the ongoing forklift operation."
About Larson Electronics LLC: Larson Electronics LLC is a manufacturer of industrial lighting equipment and accessories. The company offers an extensive catalog of industry-grade lighting and power distribution products for the following sectors: manufacturing, construction, food processing, oil and gas, military, marine and automobile. Customers can benefit from the company's hands-on, customized approach to lighting solutions. Larson Electronics provides expedited service for quotes, customer support and shipments.
Related