Intelligent Power Switch offers slew rate control up to 3 A.
Press Release Summary: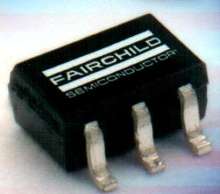 Model FDC6901L integrates P-Channel MOSFET with slew rate controller IC. With 3 programmable slew rates of 600, 41, and 24 V/ms, unit can be programmed to drive wide range of capacitive loads. It minimizes EMI and offers low RDS(on) of 180 milliohms max. Regulated turn-on is provided to reduce inrush current. Strong pull-up buffer quickly turns off internal MOSFET, since rise time is less than 7 µs and can be increased to 124 or 162 µs.
---
Original Press Release:
Fairchild Introduces the First Intelligent Power Switch Integrating a Low Current IC and a P-Channel MOSFET for Slew Rate Control Up to 3A
New Power Switch Offers Significant Board-Level Savings in Portable Applications San Jose, Calif-July 10, 2003- Fairchild Semiconductor (NYSE: FCS) today announced the FDC6901L, a one-of-a-kind power switch integrating an advanced Trench technology P-Channel MOSFET with a slew rate controller IC. The result is an intelligent power switch providing superior thermal and electrical performance while eliminating the need for additional packages and several passive components. This fully integrated, cost-effective solution is able to handle loads as high as 3A. The FDC6901L is ideal as a load switch in cell phones and PDAs or when used in power management/safety applications, such as DVD players, set-top boxes and other consumer products. The FDC6901L's advanced power-up control functionality is based on a unique design utilizing a small control IC to drive the gate of the integrated P-Channel MOSFET switch with a programmable constant current source. This design provides a more repeatable and accurate method for controlling the turn-on characteristic of the MOSFET switch, and allows system designers to avoid resets or other system fault conditions caused by supply voltage variations. Regulated turn-on is provided to reduce inrush current and, therefore, power loss and voltage transients on the supply. The IC on the highly efficient FDC6901L also has a strong pull-up buffer to quickly turn off the intemal MOSFET, since the rise time is less than 7 microseconds and can be increased to 124 or 162 microseconds. With three programmable slew rates (600V/ms, 41V/ms, and 24V/ms), the FDC6901L can be easily programmed to drive a wide range of capacitive loads. In addition, this flexible device can adjust the inrush current for better power management. It also minimizes EMI and offers extremely low RDS(on) of 180 milliohms max. The FDC6901L is available in a space-saving, industry-standard TSSOP-6 (SuperSOT-6) package for high-volume, surface-mount applications. "Traditionally, power management circuit designers have been limited in flexibility when using external discrete components to optimize load switch turn-on in their applications," said Chris Winkler, Fairchild's market development manager for portable products applications. "Because the new FDC6901L integrates a low-current analog control IC with a P-Channel MOSFET switch, designers now have a way to achieve superior power management performance in significantly less space -and with fewer components." In 2001, Fairchild introduced the FDG901D, the first slew rate controller IC with the ability to drive an external FET. The introduction of the new FDC6901L advances this technology with increased functionality in a space-sensitive footprint to keep pace with the industry's demanding product size and volume requirements. The FDC6901L adds to Fairchild's portfolio of products targeting portable applications. These products include audio amplifiers, LEDs for backlighting, supervisory products, such as temperature sensors and reset generator circuits, LDOs, and TinyLogic®. Price: US $0.66 (1000 pcs.)
Availability: Now
Delivery: 8 weeks ARO For more information about this product go to www.fairchildsemi.com/pf/FD/FDC6901L.html. For information on other Fairchild products, design tools, and sales contacts, please visit www.fairchildsemi.com. Fairchild Semiconductor:
Fairchild Semiconductor (NYSE: FCS) is a leading global supplier of high performance products for multiple end markets. With a focus on developing leading edge power and interface solutions to enable the electronics of today and tomorrow, Fairchild's components are used in computing, communications, consumer, industrial and automctive applications. Fairchild's 10,000 employees design, manufacture and market power, analog & mixed signal, interface, logic, and optoelectronics products from its headquarters in South Portland, Maine, USA and numerous locations around the world. Please contact us on the web at www.fairchildsemi.com.
Related