DC to DC Power Supplies (Converters)
2250VDC DC-DC Converters come in 0.9 x 1.3 x 0.404 in. package.
Press Release Summary: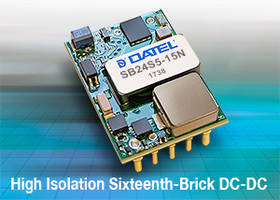 SB Series 2250VDC DC-DC Converters are offered in 2:1 Vin model with a input range of 18, 18 to 36 or 36 to 75VDC and 4:1 version offers input voltage range of 9 to 36 or 18 to 75VDC. Units are UL/CSA 60950 or CE Mark 2004/108/EC certified and are operated in a temperature range of -40ºC to +123ºC. Products offer output voltage trim range of ±10% and are equipped with on-board input differential LC filter. Converters can sustain 100V input transients.
---
Original Press Release:
New High Isolation (2250VDC) Sixteenth-Brick DC-DC Converters Feature Ultra-Wide Input Voltage Ranges and Optional High Isolation of 2828VDC
The SB family of converter comes in an industry standard footprint 0.9" x 1.3" x 0.404" package. The 2:1 Vin series of converter operates over the input range of 9 to 18, 18 to 36 or 36 to 75VDC and provides up to 100 Watts of output power, while the 4:1 Vin series operates over the input voltage range of 9 to 36 or 18 to 75VDC and provides up to 50 Watts of output power. The SB family offer high efficiency up to 93%. Standard models come with isolation of 2250VDC (1590VAC RMS), but optional High Isolation of 2828VDC (2000VAC RMS) is available by adding suffix "I" to the part number.
Please contact DATEL if your application requires customized input/output voltages, alternate pin-out / packaging, UL/CSA 60950 or CE Mark 2004/108/EC Certifications.
Precisely regulated outputs
Fixed switching frequency
2:1 or 4:1 input voltage ranges
Up to 100 Watt (2:1 output) and up to 50 Watt (4:1 output)
Remote ON/OFF - positive or negative and Remote Sense
-40ºC to +123ºC operating temperature range
Full protection (OTP, OCP, OVP, UVLO and auto-restart)
Optional baseplate 0.500" (12.7mm) tall (only with 2250VDC standard isolation)
Withstands 100V input transients (50V for 9-36Vin models)
lso available with a baseplate, 2:1 Vin, SMD package and higher power density
Optional SMD-mountable construction
Output voltage trim range: ±10%
On-board input differential LC filter
Meets UL94, V-0 flammability rating
Designed to meet UL/CSA 60950-1, and EN 55022TUV
Request More Information: http://catalog.datel.com/request/all-categories?
View 16th Product Page (PDF): http://catalog.datel.com/category/-dc-dc-converters-sixteenth-brick-dc-dc-converters
View 16th Brick 2:1 Data Sheet (PDF): http://www.datel.com/data/ps/sb-2to1-series.pdf
View 16th Brick 4:1 Data Sheet (PDF): http://www.datel.com/data/ps/sb-4to1-series.pdf
About DATEL, Inc.
DATEL is an employee owned US-based company dedicated to the military and aerospace market solutions. For several decades DATEL has worked closely with defense and Hi-Rel companies to provide fully qualified and MIL-Certified 883 components that meet customers' specific and stringent application requirements.
As a premier designer / manufacturer of Data Acquisition systems and components, DATEL is frequently approached by our customers to help them resolve obsolescence, End-of-Life (EOL) and / or reduced access to qualified legacy products. We are uniquely positioned to provide alternative solutions to on-going and mature defense and aerospace programs which suffer from Diminishing Supplier Base issues.
DATEL is an established supplier of such Data Acquisition devices, including industry's best hybrid A/D and D/A Converters, Sample-Hold Amplifiers, CCD Signal Processors / Imaging Converters, Single-Package, Multi-channel Data Acquisition Systems, Sample-Hold Amplifiers and many other custom MCM assemblies. We maintain MIL-PRF-38534, Class H and Class E Certification to offer our customers many features and capabilities, including: MIL-STD-883 Screening, Customized Testing, Screening, and Packaging. We offer New Design, Reverse Engineering and Resurrection of Obsolete systems / components, providing full Form-Fit-and Function Compatibility with legacy devices.
Our Manufacturing and Design Capability positions DATEL as a reliable partner to resolve legacy, obsolescence, and diminishing supplier base problems which our customers encounter with more and more frequency.
DATEL maintains core processes, products and capabilities with NO OBSOLESCENCE, thus supporting products and programs for our customers for the past half-century.
Contact This Company Download Spec Sheet
Related