2061 Terminal Blocks Simplify Solid State Lighting Applications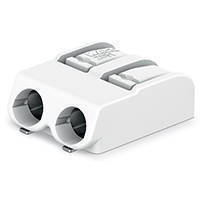 GERMANTOWN, WI – 2061 surface mount terminal blocks with push-button actuation offer trouble-free installation and easy module replacement. Stranded conductors ranging in size from AWG 20 – AWG (16 0.5 mm2 to 1.5 mm2) can now easily be connected and removed via push-button. Solid conductors can also be inserted directly. At just 5.6 mm high with a light color profile the 2061 substantially reduces on-board LED shadowing. Benefits include:

• Tape and reel packaging for automated wiring systems

• 6 mm  pin spacing

• Rated data 320 V, 4 kV/ 2(III), 12 A

• 300V UL 1059



2061 PCB terminal blocks are available in 1-, 2- and 3-pole versions and can be arranged side-by-side without any pole loss. The 2061 is the industry's most compact and easy-to-use 16 AWG SMD terminal block for wiring industrial electronics and LED modules.



About WAGO:



Innovation is at the heart of everything we do at WAGO. From our pioneering CAGE CLAMP® spring pressure connection technology to our extensive range of Interconnect, Interface and Automation solutions, such as the fieldbus independent WAGO-I/O-SYSTEM, our customers count on the unconditional performance and reliability of our products to ensure the safe, efficient operation of their systems every time.



For additional information, visit www.wago.us. Contact WAGO at 1-800-DIN-RAIL or info.us@wago.com.



More from Construction Equipment and Supplies