16-Bit SAR ADC 16-Bit supports 1 MS/sec sampling rate.
Press Release Summary: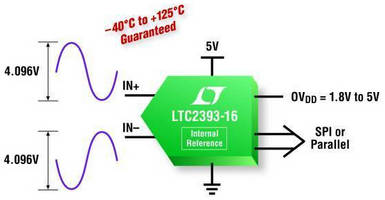 Available in 7 x 7 mm LQFP/QFN packages, LTC2393-16 achieves 94 dB SNR at up to max sample rate with no cycle latency. It operates from 5 V supply and supports ±4.096 V input range. Suited for general-purpose designs that require maximum signal swings to overcome background noise levels in industrial environments, ADC achieves 94 dB SNR and 105 dB THD. Along with parallel/serial interfaces, device offers DC performance with ±2 LSB INL (max) and 16 bit, no missing codes resolution.
---
Original Press Release:

16-Bit, 1Msps SAR ADC Achieves 94dB SNR, Measures Wide ±4.096V Input Range



MILPITAS, CA - Linear Technology Corporation introduces the LTC2393-16, a 16-bit SAR ADC that achieves an excellent 94dB SNR at sample rates up to 1Msps with no cycle latency. Operating from a single 5V supply and supporting a wide ±4.096V input range, the LTC2393-16 is well suited for many general purpose designs that require maximum signal swings to overcome background noise levels in demanding industrial environments.

The LTC2393-16 features excellent AC performance, achieving 94dB SNR and 105dB THD. DC performance is equally impressive, featuring ±2LSB INL (max) and 16 bits no missing codes resolution. The LTC2393-16 also features a temperature-compensated internal reference with a production-tested 0.1% initial accuracy and 20ppm/°C (max) temperature coefficient over the automotive and industrial temperature ranges. The LTC2393-16 dissipates 140mW at 1Msps and features a shutdown mode that reduces power dissipation to 175µW when not converting. True no latency operation enables accurate one shot measurements even after lengthy idle periods with no minimum sample rate required. The LTC2393-16 supports 1Msps sample rates through both serial and parallel interfaces at I/O voltages from 1.8V to 5V.

The LTC2393-16 is now available, along with the LTC2392-16 (500ksps) and LTC2391-16 (250ksps) pin- and software-compatible ADCs in 48-pin 7mm x 7mm LQFP and QFN packages, with guaranteed specifications tested over the commercial, industrial and automotive temperature ranges. To achieve uncompromised AC performance, we recommend the fast settling, LT6350 ADC driver with rail-to-rail input and differential outputs. An integrated demo board featuring the LT6350 driving the LTC2393 ADC is available at www.linear.com or via a local sales office. All devices are available now in production quantities, priced starting at $20.65 each for the LTC2393-16 and $7.86 each for the LTC2391-16 in 1,000-piece quantities. For more information, visit www.linear.com.

Summary of Features: LTC2393-16

1 Msps Throughput Rate

±2 LSB INL (max)

Guaranteed 16-Bit No Missing Codes

94dB SNR (fIN = 20kHz)

Single 5V Supply

Differential Input Range: ±4.096V

Internal Reference (10ppm/°C)

No Data Latency, One Shot Operation

Parallel and Serial Interface

Internal Conversion Clock

48-pin 7mm x 7mm LQFP & QFN Packages

About Linear Technology
Linear Technology Corporation, a manufacturer of high performance linear integrated circuits, was founded in 1981, became a public company in 1986 and joined the S&P 500 index of major public companies in 2000. Linear Technology products include high performance amplifiers, comparators, voltage references, monolithic filters, linear regulators, DC-DC converters, battery chargers, data converters, communications interface circuits, RF signal conditioning circuits, µModule® products, and many other analog functions. Applications for Linear Technology's high performance circuits include telecommunications, cellular telephones, networking products such as optical switches, notebook and desktop computers, computer peripherals, video/multimedia, industrial instrumentation, security monitoring devices, high-end consumer products such as digital cameras and MP3 players, complex medical devices, automotive electronics, factory automation, process control, and military and space systems.
LT, LTC, LTM, µModule and are registered trademarks of Linear Technology Corp. All other trademarks are the property of their respective owners.


More from Computer Hardware & Peripherals