Thread-Locking Adhesive eliminates surface preparation.
Press Release Summary: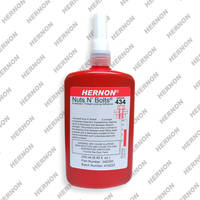 Nuts N' Bolts(TM) 434 compensates for lowered ionic activity and can be used on various substrates without surface primers or cleaning. Medium-strength adhesive offers 180 lbs-in. breakaway torque and 65 lbs of prevailing torque. Fixture strength, or 70% full strength, is achieved in 10 minutes, and full torque strength is provided in 24 hours. Temperature resistance of cured adhesive ranges from -65° to +300°F.
---
Original Press Release:
Hernon Introduces a New Surface Insensitive Thread Locking Adhesive
Hernon Nuts N' Bolts(TM) 434 Eliminates the Need for Costly Surface Preparation and Cleaning Orlando, FL June 26,2002: Hernon Manufacturing has released a new surface insensitive thread-locking adhesive. Nuts N' Bolts(TM) grade 434 can be used on a variety of substrates without the need for surface primers or other preparation. Before the release of this high performance adhesive, applications required clean surfaces that were free of any oils and dirt, and metals with low ionic activity required the use of a primer. Without these preparations, typical thread locking adhesives would cure more slowly and offer only reduced strength in comparison to application in ideal conditions. Anaerobic thread locking adhesives depend on two mechanisms to cure - lack of oxygen and ionic activity of metal. Oil and dirt on the surface of the parts creates a film that will limit the ability of the adhesive to bond as well as cure; therefore, thorough cleaning of the parts was always necessary. In addition, the application of a primer has been required on substrates that exhibit lower ionic activity such as aluminum. Cleaning and priming parts adds considerable cost and production time to many assembly applications. New surface insensitive Nuts N' Bolts(TM) 434 overcomes this problem by compensating for the lowered ionic activity. Nuts N' Bolts(TM) 434 is a medium strength thread locking adhesive that offers 180 inch-pounds of breakaway torque and 65 pounds of prevailing torque in tests performed according to the MIL-S-46163 military specification. Fixture strength, or 70% of full strength, can be achieved in just 10 minutes with full strength torque strength offered in 24 hours. Temperature resistance of cured Nuts N' Bolts(TM) 434 is from -65° to 300° Fahrenheit (-55° to 150° Centigrade) For more than 24 years, Hernon Manufacturing has been a multi-national innovator in the production of high performance adhesives and sealants. Hernon Manufacturing's Quality Management System is ISO 9002 Registered. Learn more about Hernon Manufacturing at hernonmfg.com.
More from Software