100-Watt RF SOI Power Limiter offers response time less than 1 ns.
Press Release Summary: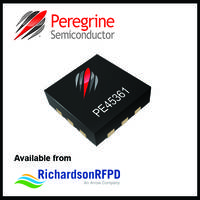 PE45361 100-Watt RF SOI Power Limiter is suitable for low-noise receivers and wireless-infrastructure transceivers. Unit comes with adjustable low power limiting threshold from +7 dBm to +13 dBm. Product offers positive threshold control from +0 V to +0.3 V and comes in a 3 mm x 3 mm x 0.5 mm QFN package. Power Limiter delivers low insertion loss and provides maximum power handling of +50 dBm.
---
Original Press Release:
Richardson RFPD Introduces New 100-Watt RF SOI Power Limiter from Peregrine
Delivers reliable and repeatable power protection
Richardson RFPD, Inc. announced today the availability and full design support capabilities for a new power limiter from Peregrine Semiconductor Corporation.
The UltraCMOS® PE45361 builds on the success of Peregrine's 50-watt UltraCMOS power limiters and adds higher pulsed power handling, a lower limiting threshold and positive threshold control. The PE45361 delivers reliable and repeatable power protection to sensitive low-noise receivers for test-and-measurement equipment and wireless-infrastructure transceivers
Unlike traditional PIN diode solutions, the PE45361 achieves an adjustable input 1 dB compression point or limiting threshold via a low current control voltage (VCTRL), eliminating the need for external bias components such as DC blocking capacitors, RF choke inductors and bias resistors.
The new limiter delivers low insertion loss and high linearity under non-limiting power levels and extremely fast response time in a limiting event, ensuring protection of sensitive circuitry. It also offers excellent ESD rating and ESD protection.
The PE45361 is manufactured on Peregrine's UltraCMOS® process, a patented advanced form of silicon-on-insulator (SOI) technology, offering the performance of GaAs with the economy and integration of conventional CMOS.
Additional key features of the PE45361 include:
Adjustable low power limiting threshold: from +7 dBm to +13 dBm
Maximum power handling: +50 dBm, 100 W pulsed
Positive threshold control: from +0 V to +0.3 V
Response time: < 1 ns
Packaging: 12-lead, 3 mm x 3 mm x 0.5 mm QFN
To find more information, or to purchase this product today online, please visit the PE45361 webpage. The device is also available by calling 1-800-737-6937 (within North America); or please find a local sales engineer (worldwide) at Local Sales Support. To learn about additional products from Peregrine, please visit the Peregrine storefront webpage: http://www.richardsonrfpd.com/content/english/aboutus/Pages/Suppliers-Storefront.aspx?supplierId=347
About Richardson RFPD
Richardson RFPD, an Arrow Electronics company, is a global leader in the RF and wireless communications, power conversion and renewable energy markets. It brings relationships with many of the industry's top radio frequency and power component suppliers. Whether it's designing components or engineering complete solutions, Richardson RFPD's worldwide design centers and technical sales team provide comprehensive support for customers' go-to-market strategy, from prototype to production. More information is available online at www.richardsonrfpd.com.
Contacts:
Dave Silvius
Director, Strategic Marketing
Email: dsilvius@richardsonrfpd.com
Phone: 630 262 6800
Fax: 630 262 6850
Elizabeth Whelan
Marketing Specialist
P 630.262.6867
M 630.488.6184
Richardson RFPD
1950 S. Batavia Avenue, Suite 100
Geneva, IL 60134
More from Machinery & Machining Tools