"Techno-Tropic" Puerto Rico Convention Center's Signature Skylight Finished by Linetec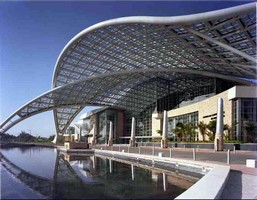 Wausau, Wis. -- Architectural finisher Linetec painted the distinctive, metallic-coated skylight featured on the Puerto Rico Convention Center in San Juan.

A long-time Linetec customer, Super Sky Products, Inc. of Mequon, Wis. manufactured the dramatic skylight, which serves as the Convention Center's dominant architectural expression and visual icon. Its large 85,150-square-foot sweeping skylight recalls the shape of ocean waves in their complex geometry, color and translucency as envisioned by the architectural firms Jimenez & Rodriguez Barcelo AIA, of San Juan, Puerto Rico, and TVS International, Inc. of Atlanta.

Meeting both aesthetic and performance specifications of the glistening, wavelike form, Linetec finished the aluminum skylight in a three-coat silver metallic Duranar® paint. "Metallics can make your project stand out as one of beauty. The lively appearance is caused by the way visible light reflects off of the metallic flakes," explains Andy Joswiak, vice president of operations at Linetec.

In compliance with AAMA 2605, the coating is tested to resist chalking and erosion, while retaining color and gloss, for 10 years. "Unless a particular project is in an extreme environment, a Kynar® paint finish applied by Linetec will last several years beyond the warranty period," adds Joswiak.

Contributing to the Convention Center skylight's positive, lasting impression, Super Sky selected Viracon's clear low-E glass laminated with a medium gray ceramic frit standard dot pattern. Additional design and construction companies contributing to the $415 million facility included Sassaki Associates, Arquitectonica, CSA, and Hardin Construction Group/QB Construction.

In 2007, the Puerto Rico Convention Center won the coveted Prime Site Award of Excellence. Opened in November 2005, the 580,000-square-foot Center is the largest in the Caribbean and claims to be the most technologically advanced throughout both the Caribbean and Latin America. The "techno-tropic" facility accommodates groups of up to 10,000 and is scheduled to host the Associated Builders and Contractors national convention in March 6-7, 2008 and the International Federation for Housing and Planning Congress in October 2008.

The Puerto Rico Convention Center is a government-owned building under the administration of the Convention Center District Authority, and managed by SMG, a global facility manager with headquarters in Philadelphia. Conceived as a dynamic urban center, the Convention Center is located in a 113-acre area on the site of the former U.S. Naval and Coast Guard base in San Juan's Isla Grande, convenient to the international airport, hotels and tourist area. This District is considered to be the largest waterfront development project in the history of the U.S. and its territories.

Linetec is one of the nation's largest paint and anodize finishers, and the largest independent architectural finisher. Located in Wisconsin, the company serves customers across the country through a national trucking network and offers 500,000-square-feet of capacity for finishing such products as aluminum windows, wall systems, doors, hardware and other architectural metal components, as well as automotive, marine and manufactured consumer goods. For more information on Linetec, please visit www.linetec.com or call 888-717-1472.

Media Contact: Heather West, 612-724-8760, [email protected]
Photos provided by Super Sky Products, Inc.