"Green Sleeves" Give 4, 6 and 8-Packs Maximum Shelf Appeal, Minimize Waste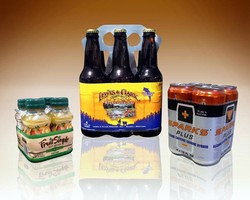 WHO BENEFITS? Producers of soft drinks, energy drinks, beer, wine coolers, flavored coffees, smoothies and juices, and functional beverages who want a cost-effective,
environmental alternative to paperboard or chipboard carriers

October 15, 2007. PDC International Corporation, a leading manufacturer of tamper-evident packaging and labeling machinery for a broad range of consumer and commercial products, is showcasing an environmentally friendly alternative to paperboard containers for multipacking applications.

The BrandPak Multipack system uses a stretch sleeve applicator developed by PDC-Europe (Austin, TX) in cooperation with ITW Hi-Cone and CCL Auto-Sleeve. The BrandPak (polyethylene) film is moisture-resistant, and is not degraded by exposure to moisture or ice water during products' normal 120-day shelf life. It has proven to be a distinct and effective solution for three important recent roll-outs.

BrandPak quartets of 8 oz. FruitSimpletm smoothies from Sunny Delight Beverages are stretch sleeved on a PDC Model STG-2 unit at 150 BrandPaks per minute. Eight-color, flexographically printed stretch sleeve provides precise, dynamic, 360° billboarding for maximum visual appeal.

Lewis & Clark Brewery uses a PDC Model STA Stretch Sleeve Applicator at 40 packs per minute for their 6-pack glass beer. And Miller Brewery is also using the PDC Model STA Stretch Sleeve Applicator for their Sparks Energy Drink. 4 and 6-packs are sleeved at over 400 units per minute.

"The BrandPak concept is a totally new alternative for a broad range of consumer products," says PDC Corporation President Neal Konstantin. "With more than 40,000 new packaged goods introductions in 2006,* manufacturers are aggressively seeking ways to maximize product visibility. The challenge, of course, is to do this in a way that also speaks to sustainability, recyclability, and less waste. The BrandPak concept achieves all of those goals, and at a unit cost that's surprisingly competitive."

PDC Stretch Sleeve Applicators have a built-in zero downtime material accumulator that facilitates continuous machine operation; there are no stoppages for roll changes. This equates to higher line output and productivity, and lower unit costs.

Patented PDC technology positively controls the flow of sleeving material, producing exceptional consistency over long production runs. There is no adhesive or heat applied. Systems will accommodate thin gauge material.

These PDC stretch sleeving systems accommodate a broad range of product shapes. They are also engineered to allow operators to switch quickly from one job to the next thanks to tool-less changeover. Other user-friendly features include Motorized Height Adjustment and Production and I/O Monitoring on an HMI touch screen.

Like all PDC equipment, the stretch sleeving systems use off-the-shelf components to simplify and reduce the costs of maintenance over time. Systems are fully enclosed, with static eliminator, and available zero-access guarding, for maximum safety.

For more information, contact Alcyr Coelho, PDC-Europe Inc. Austin, TX 78723 (512) 302-0194 www.pdceurope.com www.pdc-corp.com

* Wall St. Journal, October 3, 2007, "A Virtual View of the Store Aisle"

More from Computer Hardware & Peripherals