"Extreme Challenges, Extreme Results" WIDIA Sponsors Ultra 4 Unlimited Class Racer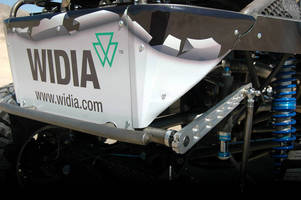 "Extreme Challenges, Extreme Results" WIDIA Sponsors Ultra 4 Unlimited Class Racer



Car owner/driver/builder also a WIDIA distributor



"It's the fastest-growing motor sport today, bar none," says David Buchberger, vice president, Hi-Speed Corp. (Thousand Oaks, Calif.), a Manufacturer Representative of WIDIA-brand products and services. By day, that is. By night, Buchberger can be found building parts and putting the finishing touches on his Ultra 4-class racer which WIDIA is sponsoring for his 2012-2013 season.



The defining characteristic of Ultra 4 class is that all cars must be capable of 4-wheel drive. Beyond that, the class is unlimited, meaning all cars are custom-fabricated and come in all shapes and sizes, capable of speeds over 100 MPH and containing gear ratios as low as 100 to 1 for technical rock crawling.



"WIDIA's theme at IMTS 2012 is 'Extreme Challenges – Extreme Results', and nowhere is that better exemplified than in Ultra 4 racing in general and David in particular," says Bernie McConnell, vice president, WIDIA Products Group and Services. "WIDIA is all about creating tremendous growth opportunities through performance, and backing David's efforts in Ultra 4-class racing is a natural fit."



King of the Hammers

"I've recreational-wheeled since I was 16 and have enjoyed every minute of it," says Buchberger, now 33.  The California resident, an avid car builder as well as racer, was well-acquainted with the "hammer trails" of California, known as some of the hardest rock trails in existence. In 2007, the opportunity to kick it up a few notches occurred when "King of the Hammers", an off-road race combining desert racing and rock climbing on public land in Johnson Valley, CA was born. As legend has it, there were only 13 teams at this first non-spectator invitational race with a case of beer as the prize. They are referred to as the OG13 and are always invited back to race year after year. All past winners, or Kings, are also invited year after year.



Competitors start side-by-side, two vehicles every thirty seconds, and must complete the 165-mile course in less than 14 hours. Each team must pass through seven checkpoints while staying within one hundred feet of the centerline of the course. KOH is a no-chase-team race; repairs can only be done on the track by the racers or in the pit area. From the OG13, KOH 2012 grew to 135 teams competing. Dubbed the toughest one-day off-road race on the planet, the race has become so popular that a whole race circuit was created; Ultra 4-class racing through a Pro Series and Regional Series, designed to produce an Eastern, Western,

and National Champion.



Parts Never Seen Before

Buchberger has competed in two KOH races and was in the process of building a new racer when Bernie McConnell called. Buchberger has worked at Hi-Speed Corp. for more than eight years, providing cutting-edge WIDIA solutions for many businesses, predominantly in the aerospace and energy markets. "Bernie and I were talking about how he had heard about KOH and what would I think of WIDIA's sponsoring the car. Considering my first one took seven years to build and I had already come to grips with sitting out at least the next two seasons to get my next one built, the word that came to mind was 'unbelievable.' I wouldn't have to miss the next season and the car would be incredibly competitive."

More from Architectural & Civil Engineering Products