Yale Alternative Power Solutions Deliver Formula for Increased Efficiency and Productivity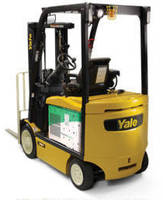 GREENVILLE, N.C. – Lift trucks powered by innovative power solutions enable new levels of energy efficiency and productivity, built to meet operational challenges with maximum uptime, flexibility and ease of use. At MODEX 2016 booth #3147, Yale Materials Handling Corporation features its comprehensive suite of alternative power solutions, including lithium-ion battery technology, hydrogen fuel cells, compressed natural gas (CNG) and liquefied petroleum gas (LPG).



On-site for attendees to experience firsthand, the first UL-recognized lithium-ion battery pack in the forklift industry from Yale offers extended run times, excellent charging capabilities and a small footprint. These features make the lithium-ion option an efficient and productive power alternative for retail, beverage and food direct-store-delivery applications. And with the ability to last up to five times longer than traditional lead acid batteries, the lithium-ion alternative drastically reduces downtime and expensive battery replacements, and is backed by a five-year warranty.



"Alternative power solutions for lift trucks are the wave of the future, not only reducing environmental impact, but offering significant value in terms of reduced operating costs and increased productivity," said David McNeill, Manager of Product Strategy for Yale. "We're positioned to connect customers with the latest, most innovative power solutions that fit their unique operational requirements and give them a competitive edge."



The Yale booth also features an exhibit dedicated to exploring the technology and benefits of hydrogen fuel cells. Lift trucks powered by hydrogen fuel cells address many of the challenges facing material handling operations today – lower operational costs, reduce emissions, improve reliability and increase efficiency. With only water and heat as byproducts, hydrogen fuel cells produce zero harmful emissions, and require only about three minutes to refuel, compared to between 15 – 30 minutes to replace a lead-acid battery.



Other available options highlighted at the booth include CNG and LPG, which offer high travel speed, acceleration and lift speeds, along with quieter operation and considerably lower emissions than gasoline or diesel models.



More from Machinery & Machining Tools