World's First Mechanical Smart Watch and Graphene-based Thermometer Presented at CES 2015 by Linktop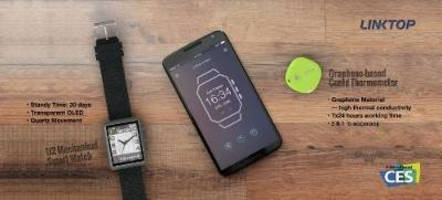 XIAMEN, China  and LAS VEGAS, -- Linktop Technology is introducing its mechanical smart watch and Graphene-based products cloud thermometer to the 2015 Consumer Electronics Show (CES) in Las Vegas, Nevada (January 6-9, 2015).



Mr. Bill Xu, the CEO of Linktop Technology, known for his innovative mind in the Internet of things, will attend CES. "Technology and fashion are two forces that are driving the market of wristwatches today, why not combine them and make a different watch? So Linktop created Mechanical smartwatch U2. U2 is a perfect combination of the traditional mechanical watch and smart watch," Mr. Bill states. "Graphene-based products will soon become a trend and change the world. Graphene's remarkable properties enable amazing applications," Mr. Bill continues.



Linktop mechanical smart watch is more than a watch. It puts a transparent color TOLED display above the mechanical dial. The transparent display is sleeping if not activated so that to conserve the battery life, which enables the standby time of the display is long to 30 days. Meanwhile, the mechanical dial keeps telling wearers the time even the display's battery runs out. Connected with smartphone by using Bluetooth 4.0, U2 will keep the wearer informed of what happens in their smartphone in real time. The watch will notify the wearer about all incoming calls, SMS, email, facebook and twitter or other applications' notification anywhere anytime. It is also a remote control for smartphone so that to take a picture and control the music player. Besides, the U2 watch can keep track of the wearer's activity. It will tell the running steps, distance and calories burnt.



Linktop Technology is the world's first company that uses Graphene for fast and accurate heat conduction in a groundbreaking and original body temperature thermometer. Graphene is well known for its unique structure and physicochemical properties. It is the strongest, thinnest and most conductive material in the world. By adding Graphene, Linktop cloud thermometer can get the measurement data very quickly, which far surpasses other thermometers in the market. Digital Thermometer will finally replace all Mercury Thermometers.



Linktop cloud thermometer is especially designed for kids. With the high accuracy, it is able to detect any little change of the kid's body temperature. As a matter of fact, it can 7*24 hours continuously monitor the kid's body temperature and alert the parents immediately when there is an anomaly in the temperature. Its slim and lightweight design ensures no unpleasant body sensation when wearing it. The device is connected to smart phones (iOS and Android) via Bluetooth 4.0, and the users can read real time measurement data from an easy to use but highly sophisticated app. Users can also share the data with others by uploading them to the cloud.



During CES, Linktop will present many more new and innovative products, such as a Kid safety GPS watch, 6 in 1 Health Monitor etc. We welcome media, dealers, distributors and other professionals to visit our booth #43009 in Westgate.



About Linktop

Founded in 2003, Linktop Technology is focusing and specializing in wearable technology, mobile healthcare and the Internet of things. For more information, visit www.linktop.com.cn or arrange a meeting at CES by contacting Ernest Zhuang at ernest.zhuang@linktop.com.cn, +86 13159226591.



Email: sales@linktop.com.cn

Web: www.linktop.com.cn

CES booth: #43009 in Westgate.

More from Computer Hardware & Peripherals