Miscellaneous Washing Equipment
Working in Remote Locations is Challenging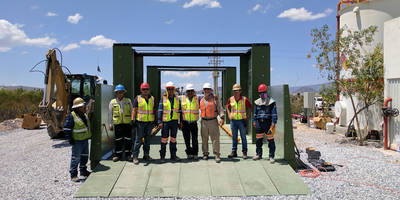 When vehicles and equipment need to be maintained, first they must be washed. Thoughts of cost, logistics, and implementation to provide a full service maintenance facility can be daunting. But what if it doesn't have to be.
Hydro Engineering, Inc was contacted by a remote mining firm based in Central Mexico, and was asked to develop and implement a completely hands-free Wash Rack system. The design perimeters were simple:
100% automatic washing, undercarriage, sides and top of vehicles Conserve water, collect and recycle Final, fresh water rinse
This system is now fully operational and is a keystone in their maintenance program. It uses the full suite of Hydro Engineering, Inc.'s collection products including portable steel containment wash racks and automatic vehicle washing and then rinsing systems. These include washing of; undercarriage, wheels, entire side and top of each vehicle. Using Hydropad above ground, steel, portable containment wash rack, 100% of collected wash water is recycled and reused by the system. The automatic vehicle undercarriage and wheel wash system is the heart of operation providing an astounding 520 gallons per minute of wash water. This is enough water to deal with heavy dirt and debris from mine site use.
With this system, Goldcorp has the ability to wash service vehicle 24/7 with virtually no personnel running the equipment saving time, money, and resources while increasing efficiency and productivity on-site.
Visit the experts of Hydro Engineering, Inc. to learn more about modular wash rack solutions.
Hydro Engineering, Inc.
865 W 2600 S
Salt Lake City, UT 84119
Call Toll Free: 800-247-8424
Visit us on the web at: https://www.hydroblaster.com
84119-0000
Phone: 801-972-1181
Contact:
Kyler Peek
Marketing Manager
email: kpeek@hydroblaster.com