Wisconsin Oven Ships Tempering Batch Oven to a Heavy Equipment Manufacturer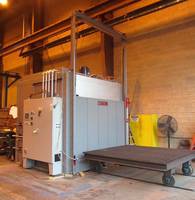 East Troy, WI - October 30, 2017- Wisconsin Oven Corporation shipped an electrically heated enhanced duty batch oven with powered load car to a heavy equipment manufacturer. The batch oven will be used for pre-heating and tempering a variety of steel components. It is designed with the capability to heat 15,000 pounds of steel at a time per the customer's requirements.
This tempering oven has a maximum temperature rating of 500° F and work chamber dimensions of 8'0" W x 8'6" L x 5'0" H. The customer required guaranteed temperature uniformity of ±10°F at set points of 300° F and 500° F. A fourteen (14) point profile test conducted in an empty oven chamber under static operating conditions was performed to confirm the uniformity.
The tempering oven is constructed with tongue and groove panel assemblies that feature Wisconsin Oven's patented high efficiency panel seems and provide 25% better insulating efficiency. The recirculation system utilizes combination airflow to maximize heating rates and temperature uniformity of the product. A powered load car rated at 15,000 pounds utilizes a variable frequency AC drive with electronic torque limiting to move the load in and out of the oven.
"When designing an oven for a heavy load weight such as this project, the airflow arrangement and heating input are key factors in achieving the desired heat up rates." Jeff Judd, Sales Engineer.
Unique features of this batch oven include:
Guaranteed temperature uniformity of ±10°F at set points of 300° F and 500° F
Two (2) 8,600 CFM @ 10 HP recirculation blowers
228 kW heating system with SCR power control
Eurotherm programmable temperature control and high limit control
Ethernet communication capability
Powdered load car rate for a 15,000 pound load
Vertical lift, pneumatically operated door
This tempering oven was fully factory tested and adjusted prior to shipment from our facility. All safety interlocks are checked for proper operation and the equipment is operated at the normal and maximum operating temperatures. An extensive quality assurance check list was completed to ensure the equipment met all Wisconsin Oven quality standards. This equipment is backed by Wisconsin Oven's Exclusive and Unprecedented 3-Year WOW™ warranty (parts only).
About Wisconsin Oven
Wisconsin Oven Corporation has been designing, engineering, and manufacturing industrial ovens and other heating equipment since 1973. Their custom and standard industrial ovens are used for a multitude of applications including heat treating, finishing, drying, and curing. Many of the industries they serve require specific temperature uniformity and equipment performance documentation. Their experienced design team is able to meet even the most stringent standards for their customers' equipment. Wisconsin Oven realizes that the success of the company depends on their Championship team of employees, which is why they have developed a company culture that recognizes and rewards employees. The goal at Wisconsin Oven is to outperform competition and provide customers with outstanding products and service.
Wisconsin Oven is owned by Thermal Product Solutions ("TPS"), a leading American manufacturer of industrial ovens, furnaces, pharmaceutical sterilizers, laboratory ovens, environmental temperature chambers, and stability test chambers. TPS provides thermal processing and test solutions for a range of industries. TPS brands include Baker Furnace, Blue M, Gruenberg, Tenney, Lindberg, Lunaire, MPH, and Wisconsin Oven. For more information on equipment solutions from TPS visit the website at www.thermalproductsolutions.com.
More from Machinery & Machining Tools