Wisconsin Oven Ships Horizontal Quench System to a Metal Casting Company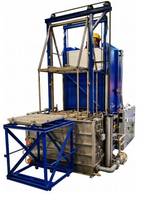 East Troy, WI – April 23, 2018 -- Wisconsin Oven Corporation announced the shipment of an electrically heated horizontal quench system to an aluminum casting company. The horizontal quench system will be used for solution treating aluminum castings for the aerospace and automotive industries.
The solution treating furnace is designed to heat a 2,500-pound load of aluminum, plus basket and work grid to an operating temperature of 1,020°F. The maximum temperature rating for this horizontal quench system is 1,250°F, sized for a 5'0" wide x 5'0" long x 5'0" high basket.
The horizontal quench system was designed to meet AMS2750E (Class 2, Instrumentation Type C) and with reporting to meet AMS 2771E requirements. A temperature uniformity survey of ±10°F at the set points of 900°F and 1,020°F was performed prior to shipment to demonstrate the ability to meet these requirements.
This horizontal quench system utilized a double tier hearth on the quench tank to allow a load to be placed in the oven while another load is in the quench tank for increased production capability. A motorized pusher/extractor charges the load into the oven and discharges it at the end of the heating cycle. The quench tank is equipped with a pneumatic lift table to rapidly lower the load into the water quench resulting in a 15 second quench time.
"At Wisconsin Oven, we look to maximize our customer's process efficiency and production rate, so features such as the double tier hearth and the pneumatic lift table were key to achieving that goal. The double tier hearth allows for heating the next load sooner as the operator does not have to wait for the load to cool in the quench tank and then drain before placing the next load into the oven." ~Gary Hanson, Application Engineer
Unique features of this Wisconsin Oven horizontal quench system include:
Compliant with AMS2750E (Class 2, Instrumentation Type C)
Compliant with reporting to meet the requirements of AMS 2771E
15 second quench time
Motorized pusher/extractor to charge and discharge the load
Pneumatic lift table on quench tank to rapidly lower the load into the water quench
Double tier hearth on quench tank to allow a load to be placed in the oven while another load is in the quench tank for increased production capability
Heated Quench Tank: 140 to 150°F starting water temperature with a 25° F maximum temperature rise
This horizontal quench system was fully factory tested and adjusted prior to shipment from our facility. All safety interlocks are checked for proper operation and the equipment is operated at the normal and maximum operating temperatures. An extensive quality assurance check list was completed to ensure the equipment met all Wisconsin Oven quality standards. This equipment is backed by Wisconsin Oven's Exclusive and Unprecedented 3-Year WOW™ warranty (parts only).
About WisconsinOven
Wisconsin Oven Corporation has been designing, engineering, and manufacturing industrial ovens and other heating equipment since 1973. Their custom and standard industrial ovens are used for a multitude of applications including heat treating, finishing, drying, and curing. Many of the industries they serve require specific temperature uniformity and equipment performance documentation. Their experienced design team is able to meet even the most stringent standards for their customers' equipment. Wisconsin Oven realizes that the success of the company depends on their Championship team of employees, which is why they have developed a company culture that recognizes and rewards employees. The goal at Wisconsin Oven is to outperform competition and provide customers with outstanding products and service.
Wisconsin Oven is owned by Thermal Product Solutions ("TPS"), a leading American manufacturer of industrial ovens, furnaces, pharmaceutical sterilizers, laboratory ovens, environmental temperature chambers, and stability test chambers. TPS provides thermal processing and test solutions for a range of industries. TPS brands include Baker Furnace, Blue M, Gruenberg, Tenney, Lindberg, Lunaire, MPH, and Wisconsin Oven. For more information on equipment solutions from TPS visit the website at www.thermalproductsolutions.com.
Contact This Company Download Spec Sheet
More from Electrical Equipment & Systems