Wieland Electric Push-In DIN Rail Terminals Now Approved for North America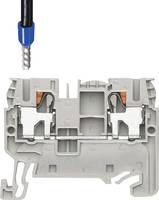 Ontario- Canada- June 13, 2017 Wieland Electric Inc., introduces fasis WTP – DIN rail terminal with push-in terminals, with approvals for North America.
Push-in terminals provide a reliable, vibration proof connection that does not require special wire preparations or tools. Push-in terminals reduce installation time while increasing reliability.
Wieland's terminals have one of the lowest wire insertion force in the industry, making operation with stranded and fine wires possible.
Wieland's fasis WTP terminal blocks incorporate a wire release lever. It allows insertion of very fine wires, and prevents insertion of the screwdriver in the incorrect hole.
The product line includes feed-through and ground blocks with 2, 3 or 4 termination points, as well as multi-tier blocks, and rating up to 8AWG, 41A and 600V.
Product                              width                                      UL(E60678)                               CSA
WTP 2.5/4                       5mm (single tire)                600V, 30A, 24-12AWG              600V, 20A, 22-12AWG
WTP 2.5/4                       5mm (two tire)                   300V, 20A, 24-12AWG               300V, 20A, 22-12AWG
WTP 6/10                        8mm                                 600V. 41A, 12-8AWG                600V, 41A, 12-8AWG
Wieland's fasis terminal blocks are extremely rugged and share many of the benefits found in our other terminal block families including similar marking and jumpering system which incorporate a perfect balance of technology using a copper current bar guaranteeing low contact resistance and a steel spring ensuring mechanical strength, durability and longer-term stability.
About Wieland DIN rail Terminals
Wieland boasts three DIN rail terminal product families with three connection technologies. Our DIN rail terminal block program with screw, tension spring or push-in connection is the right choice for every installation, wherever the control cabinet is found – in machinery and plant engineering, energy technology or building installation.
The flexible DIN rail terminal block system offers optimum handling and harmonized accessories. Customized assembly service, customer-specific solutions and a comprehensive service portfolio match our products to the individual requirements of our customers
For more information please visit the following;
Web site http://www.wielandinc.com/en-us/products/din-rail-terminal-blocks
Catalog http://www.wielandinc.com/sites/usa/files/field_files/wtp_catalog_pages_-_na.pdf
For samples, custom design requests, and all other inquiries about Wieland Electric, please visit www.wielandinc.com or call 1-800-WIELAND (1-800-943-5263).
About Wieland
Wieland Electric Inc., founded in 1910, is a leading global manufacturer of electrical interconnect technology products. Headquartered in Germany with a North American Operations Center and subsidiaries throughout the world, Wieland Electric has 2200 employees in more than 70 countries to service worldwide customers. Wieland provides solutions to the industrial & building automation, wind, solar, HVAC, and power generation markets. Local inventory, value-added services and technical resources at the North American Operations Center support a national sales and distribution channel. Wieland is ISO 9001 certified.
For more information, contact:
Martin Lalonde
Application Engineering & Technical Support
Wieland Electric Inc.
(905) 829-6414
martin.lalonde@wieland-electric.com
Contact This Company Download Spec Sheet
More from Machinery & Machining Tools