Weld Purge Film for a Variety of Pipe Sizes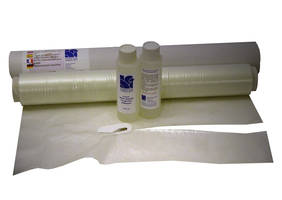 Low cost weld purging a variety of tubes and pipes sizes can be achieved by the use of low cost Weld Purge Film®.
Weld Purging Experts, Huntingdon Fusion Techniques HFT® recommend switching home made dams produced of unsuitable material, to their low cost Weld Purge Film® to achieve oxide free, zero colour welds.
Ron Sewell, Chairman for HFT® said: "Weld Purging can be challenging as well as expensive, which is why many welders today continue to construct their own dams to cut costs. Homemade dams made from material such as foam, sponge or paper can often lead to loss of welds when they leak or slip from position thus flooding the welding zone with air."
"Our Weld Purge Film is great for when mechanical purging devices cannot be retrieved. The Film, which does not contain water, unlike paper and sponge products do, can be used to create an impermeable barrier, but can be easily washed away after use without leaving any residue."
The water-soluble Weld Purge Film® allows dams to be cut easily with the safety knife provided and once they are fixed into position using the water-soluble Weld Purge Super Adhesive® provided, produce an impenetrable purge barrier that can easily be washed away during hydrostatic testing of the pipe or just by normal wash-out.
These affordable Kits will save operators high costs by minimising gas usage dramatically reducing purge time and eliminating the need to clean or possibly replace a failed weld. Weld Purge Film® Kits have been designed and developed by HFT®, containing product accessories needed to manufacture dams that will not come loose during welding.
After welding, the water-soluble film is simply washed away and dissolved leaving no trace.
Made in Wales 'Manufacturer of the Year' and Welsh Business Awards – Exporter of the Year.
For further information, please contact:
Michaela Hess, Marketing and Social Media Manager
Huntingdon Fusion Techniques HFT®
Press: michaelahess@huntingdonfusion.com
Sales: hft@huntingdonfusion.com
www.huntingdonfusion.com
More from Agricultural & Farming Products