Walter to Feature Advanced Cutting Tool Technologies at CMTS '13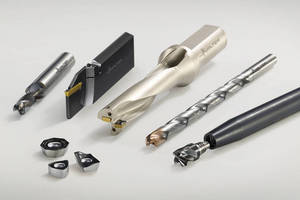 Waukesha, WI – Walter, a leading cutting tool manufacturer, will showcase several new cutting tool technologies in Booth 4204, Hall 2 at the Canadian Manufacturing Technology Show, The show will run from September 30 to October 3, 2013 at The International Center in Mississauga, Ontario.



The display will feature products such as Walter Blaxx™ indexable milling cutters, Tiger•tec® Silver for turning; Walter Titex X•treme Inox solid carbide drills; Walter Prototyp Proto•max™ Inox solid carbide end mills; and the new ValCOOL® VPLFC low-foaming coolant.



Walter Blaxx™ is a groundbreaking new shoulder mill that combines precision, high metal removal rates and process reliability in a single tool.



Tiger•tec® Silver delivers superior resistance to crater and flank wear, plastic deformation, considerably reduces machining times and ensures higher process reliability.



Walter Titex X•treme Inox solid carbide drills for stainless steel provide for a new flute profile, point geometry and TTP coating for reduced cutting force and longer tool life.



Walter Prototyp Proto•max™ Inox solid carbide end mills for stainless steel achieve material removal rates up to 50% greater than standard solid carbide end mills.



ValCOOL® VPLFC is a heavy-duty, non-chlorinated, semi-synthetic low foaming cutting fluid which helps reject tramp oils is very clean and stable and is ideal for high pressure (1,000 psi +) applications.



Walter offers an extensive line up of cutting tools for milling, drilling, turning, boring and specialized tooling for unique applications through its competence brands Walter Valenite, Walter Titex and Walter Prototyp. As well as multi-level service programs through its Walter Multiply brand.



Headquartered in Waukesha, Wisconsin the company has a strong network of distributors and field engineers across their subsidiaries in the USA, Canada, Mexico, Brazil and Argentina. The Walter name is synonymous with productivity, thanks to more than 90 years of developing cutting tools and inserts that set new standards in quality, innovation and production.



Related