Vynagrip Safety Matting Gets Crowned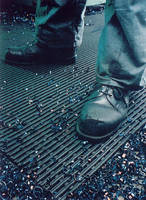 Crown Mats and Matting, the 60 year old Ohio carpet mat manufacturer, has added Vynagrip to its extensive line up of slip resistant and anti-fatigue mats.

Chris Tricozzi, Crown's vice-president of sales and marketing explained, "We decided to add Vynagrip because it is one of the most widely used heavy duty industrial matting both in the USA and Europe. We were particularly impressed with its proven performance when we saw it used on an external footbridge to create a slip resistant, all weather and indestructible surface for walkers, cyclists and horse-riders. Crown will offer the matting for industrial and working environments as well as recessed entrance wells and external applications."

Vynagrip, manufactured in the USA by Plastex Matting Inc, is made from non-porous, flexible PVC welded into a tough self-draining grid format. Extremely hard-wearing and resistant to oils and chemicals, Vynagrip is ideal for all types of janitorial and industrial working environments, both wet and dry, where a safe footing is essential. The open grid design helps to dissipate liquids and other debris and provides a comfortable anti-fatigue platform while the aggressive slip resistant diamond pattern surface reduces slips and falls.

The black matting is available in two standard sizes with an optional yellow border; it can also be ordered in roll format and custom cut. The matting is simple to cut and shape and is easily installed by the end user. Its half-inch height also makes it perfect for recessed entrance wells while its heavy weight ensures that it always lies flat over rough and uneven surfaces.

Further information is available from Crown 1 800 628 5463 (crown-mats.com)
or Plastex 1 256 845 7725 (plastexmatting.com).

More from Electronic Components & Devices