Volunteer Asbestos Removal Using the Super Efficient Grayling QuickTwist(TM) Style Glovebag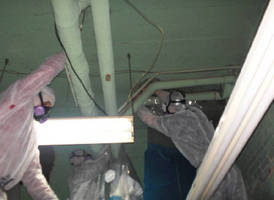 Contractor discovers huge labor savings by using the Avail QuickTwist glovebag on a pro bono asbestos abatement project for rehab center.

Alpharetta, Georgia - Grayling Industries, a leading manufacturer of safety products geared to the asbestos abatement industry, and AT Abatement, a division of AT Industries, Inc. recently donated materials, labor and expertise for a renovation project at Welcome House, a privately funded, non profit, drug and alcohol rehabilitation center located in Kansas City.

Per Mr. Greg Roark, Executive Director of Welcome House; "The building houses approximately 80 residents when at full capacity and the average stay is from six months to a year. Our ultimate goal is to get these men back out into society, drug and alcohol free and supporting themselves."

Welcome House is located in a four story former hospital building built in 1913. The renovation project involves the removal of 1750' of asbestos pipe insulation. Grayling provided the Avail QuickTwist or QT glovebags that would be required for the job and AT Abatement provided the trained asbestos abatement technicians and supervisors necessary to successfully complete the project.

As the crew from AT Abatement was not familiar with the QT style glovebag, David Larsen, representing Grayling Industries, presented the QT glovebag concept and provided training on the use of the product. Mr. Alan Copeland, the project supervisor, was immediately struck with the substantial opportunity for labor savings by using the QT10 instead of the standard 4460 type of glovebag. "We generally get about 18" to 20" of horizontal work area with a 4460. It's obvious that we could more than double the amount of work area per glovebag by utilizing the QT10."

In the end, the project required 18 cases of glovebags, or 360 QT10 glovebags. Had AT Abatement used the industry standard 4460 glovebags, the project would have required at least 1,000 glovebags, which not only would that have necessitated the purchase of 640 more glovebags, and all of the other supplies required, but it also would have required the time and labor to complete 640 more glovebag operations.

For more information on Grayling Industries and the Avail QT glovebag system, visit www.graylingindustries.com or call Grayling at 1-800-635-1551

About Grayling Industries:

Grayling Industries is a North American manufacturer of specialized flexible film products for industrial applications. Markets served are industrial packaging and environmental safety. Primary products are intermediate bulk containers and liners and products for contamination control on asbestos abatement projects. Brands include; Guardian IBC container liners for liquid and dry applications, PaperIBC containers and Avail glovebags, Control chemicals, D-Con disposable showers and Durapax disposal Bags for asbestos abatement.


More from Electrical Equipment & Systems