Viewing Nondestructively in 60-Micron Slices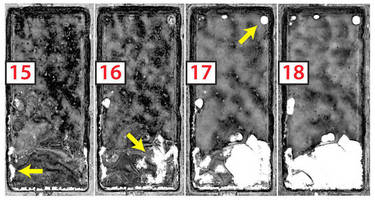 Elk Grove Village, IL - Sonoscan, Inc., the maker of acoustic micro imaging systems, has demonstrated the single-scan imaging of a sample at 50 different depths, or gates. The technique, called PolyGate(TM) , yields 50 images that show internal features at each depth.

In conventional imaging, much wider gates are used to confine imaging to a single depth of interest such as the die face or lead frame depth. The ability to set multiple gates that are imaged simultaneously during a single scan gives the system user the ability to see internal features at each gate, and to see how features, including defects, change from one gate to the next.

Shown here are gates 15 through 18 (out of 50) imaging downward from the top surface of a ceramic chip capacitor that is 3.18 mm thick. Each gate is about 60 microns thick. PolyGate can set up to 200 gates, and Sonoscan has demonstrated 5-micron gates in some materials.

Bright white regions in the acoustic image are defects. Small edge delaminations exist at Gate 15, but at Gate 16 a larger defective area appears in the lower right. In Gate 17 this area blossoms into a large delamination or void, and small voids appear at the top. The abruptness with which the large feature appears in Gates 17 and 18 suggests that the feature is very flat.

Sonoscan, Inc., 2149 E. Pratt Blvd., Elk Grove Village IL 60007. Phone 847 437-6400; Contact person: Steve Martell, x240; email info@sonoscan.com; web www.sonoscan.com.

About Sonoscan®: Sonoscan is the leading developer and manufacturer of acoustic microscopes and sophisticated acoustic micro imaging systems, widely used for nondestructive analysis of defects in industrial products and semiconductor devices. For over 30 years, Sonoscan's attention to customer needs and investment in R&D has created systems that set industry standards for speed and accuracy. Key products include C-SAM® systems for off-line and laboratory analysis and FACTS2(TM) for automated production inspection.

Through its SonoLab division Sonoscan applications engineers, with experience totaling more than two centuries in acoustic microscopy, assist hundreds of customers annually in solving materials problems and quality control issues. SonoLab operates applications testing laboratories in multiple global locations to serve the inspection needs of customers that do not have their own capability.

More from Electronic Components & Devices