View Barometric Pressure, Temperature + Humidity with a Web Browser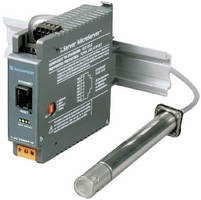 The NEWPORT ® iBTHX transmitter let's you monitor and record Barometric Pressure, Temperature, Relative Humidity and Dew Point over an Ethernet network or the Internet with no special software except a Web Browser.

The NEWPORT iBTHX serves Active Web Pages to display real time readings, display charts of barometric pressure, temperature and humidity or log data in standard data formats for use in a spreadsheet or data acquisition program such as Excel or Visual Basic.

The virtual chart viewed on the web page is a JAVA(TM) Applet that records a chart over the LAN or Internet in real time. With the NEWPORT iBTHX, there is no need to invest time and money learning a proprietary software program to log or chart the data.
The model iBTX-M with LCD display, adds several valuable features in addition to the backlit local display of temperature and barometric pressure.

The "Memory" model comes complete with a removable 2 Megabyte Flash Memory card that can store one full year of readings taken at one minute intervals (or two months of readings taken at ten second intervals).

Up to four years of barometric pressure + temperature readings can be stored on the 8 Megabyte card.

More from Controls & Controllers