View Air Pressure + Temperature with a Web Browser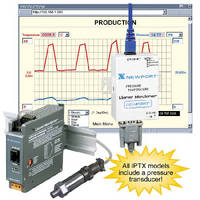 The latest NEWPORT® Virtual Chart Recorder let's you monitor and record the pressure and temperature of air (or inert gas) over an Ethernet network or the Internet. The included transducer measures pressure from 0-200 PSI and temperature from 0 to 70°C (32 to 158°F).

The award-winning NEWPORT iServer technology requires no special software except a Web Browser. It can automatically send alarms to an individual or group over the Internet by email or text messaging cell phones.

The NEWPORT iPTX serves Active Web Pages to display real time readings, display charts of air pressure and temperature, or log data in standard data formats for use in a spreadsheet or data acquisition program such as Excel or Visual Basic.

The virtual chart viewed on the web page is a JAVA(TM) Applet that records a chart over the LAN or Internet in real time. With the NEWPORT iPTX, there is no need to invest time and money learning a proprietary software program to log or chart the data.

More from Architectural & Civil Engineering Products