Versatile Lump Breaker Includes Choice of Screen Styles to Suit Wide Range of Bulk Materials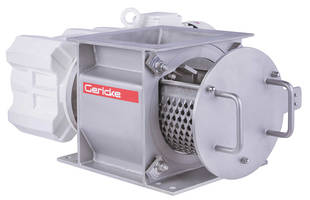 Gericke Nibbler Cuts Tough Lumps Down to Size
Somerset, NJ: The Nibbler lump breaker from process equipment manufacturer Gericke USA, Somerset, NJ (www.gerickegroup.com), features a choice of screen styles as standard equipment to promote fast, efficient size reduction with a wide range of powders, granules, and other bulk materials on the same machine. Permitting changeovers from one screen to another in as little as five minutes, the Nibbler is offered with a heavy-duty, serrated screen for breaking up hard lumps and chunks such as filter cakes and briquettes, and a lighter duty woven wire mesh screen for high throughput deagglomeration of fine, dry materials.
Ideal for food, chemical, plastics, pharmaceutical, and contract processors, the Nibbler cuts the dry materials with a low speed, high-torque, rotating paddle assembly then shears the materials through the screen via attrition milling to prevent heat and fine particle generation. The serrated and woven wire screens are offered in screen sizes from 1 mm up to 25 mm and in custom sizes based on the required particle size and shape. 
The choice of screens is offered on the entire line of seven Nibbler models, including on the FDA-compliant, hygienic, ATEX-certified, and custom models. The Nibbler is available for product testing in the company's New Jersey test laboratory with both types of screen materials to document performance.
For more information or to schedule a test, contact Gericke USA, Inc., 14 Worlds Fair Dr. Suite C, Somerset, NJ 08873-1364; 855-888-0088; [email protected]; or see www.GerickeGroup.com.
Media Contact: Rene Meira Medina at 855-888-0088 x 805 or [email protected]