Valley Roller to Debut Product Line with Maxcess at PACK EXPO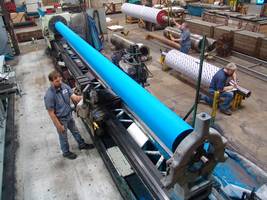 Valley Roller is set to debut its product line alongside Webex, Fife, Tidland and MAGPOWR at booth S-2147
Appleton, Wisconsin, November 2, 2016- Valley Roller, a global leader in Rubber Covered Rolls, today announced its debut with Maxcess at PACK EXPO 2016 in Chicago, Illinois.
"We acquired Valley Roller in 2015 to complement our Webex Precision Rolls business with their 30 plus years of rubber roll covering knowledge, offering our customers a one-stop-shop experience," said Greg Jehlik, CEO of Maxcess. "PACK EXPO will be an excellent opportunity to provide our customers with a first-hand glimpse into the benefits of combined product knowledge and complementary offerings between Webex and Valley Roller, while also showcasing our industry-leading solutions from Fife, Tidland and MAGPOWR."
Taking place November 6-9 in Chicago, Illinois, PACK EXPO will feature hands-on demonstrations from Valley Roller, alongside the latest innovations from Webex, Fife, Tidland and MAGPOWR. In addition, the booth will be staffed with industry specialists to help provide solutions to your most demanding web handling applications.
"By combining the strengths of Maxcess' service, support and global footprint with our years of expertise in Rubber Covered Rolls, we can offer our customer base added value with an expanded box of tools to help solve today's web application challenges," said Mike Gist, General Manager of Valley Roller. "We look forward to exhibiting alongside the storied brands under the Maxcess umbrella at PACK EXPO."
About Maxcess:
Maxcess helps its customers maximize productivity through innovative products and services worldwide. By combining more than 300 years of global service and support across the storied brands of Valley Roller, Webex, Fife, Tidland and MAGPOWR, Maxcess offers an unrivaled network of application experts.
Visit them online www.maxcessintl.com or at PACK EXPO, booth S-2147
Ben Bowlware
Marketing Manager
Maxcess
405-752-7824
More from Electrical Equipment & Systems