Vacuum Conveying System Recycles Unused Ingredients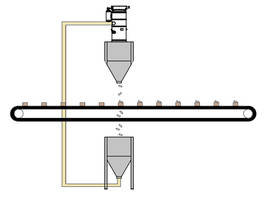 Volkmann VS Conveyors Automatically Capture and Transfer for Reuse
Bristol, PA: The Volkmann VS pneumatic vacuum conveying system from process equipment manufacturer Volkmann USA, Bristol, PA (https://www.volkmannusa.com) may be custom-engineered to automatically capture unused or excess ingredients from a process and return them upstream for immediate reuse or return them to a hopper or container for reuse at a later date. Devised to help food, pharmaceutical, and other manufacturers combat rising ingredient and raw material costs, the Volkmann system allows material previously discarded as waste to be reused for direct financial savings. The value of the precious ingredients on hand is maximized, the need for manual cleanup is reduced, and overall plant sanitation improved. 
Featuring 100 percent stainless steel in product contact areas for sanitary processing, the Volkmann VS conveyors capture and recycle salt, sugar, nuts, seeds, chips, berries, and other dry food ingredients, as well as mixed pharmaceutical powders, granules, and chips remaining after the tablet compaction process. Fine particles as small as 0.1 µm may be safely recovered and gently transferred without damaging the particle shape or adding heat history. 
The hygienic pneumatic vacuum conveying system may be tested in the company's Bristol, PA test facility. Testing may be viewed live on-site or streamed live online. 
For more information, contact Volkmann USA, 1900 Frost Road Suite 102, Bristol, PA 19007; 609.265.0101; contact@volkmannusa.com; www.Volkmannusa.com.
Contact:
David Nichols
VP Sales and Marketing
Phone:
+1-609-265-0101
Email:
marketing@volkmannusa.com