Upgrade Your Toolkit With Printing Essentials from A.W.T.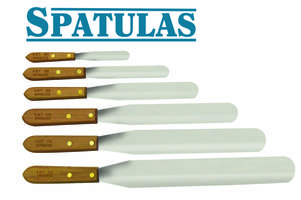 Stainless steel, all-purpose spatulas feature rosewood handles and brass rivets
Chicago, May 2017 Heading into the busy summer season, printers stocking up on essential supplies can take advantage of outstanding values on versatile, high-quality Spatulas, available in a variety of sizes from A.W.T. World Trade, Inc.
Spatulas are indispensable printing tools, used for hundreds of applications. A.W.T.'s popular allpurpose spatulas feature stainless steel, semi-flexible blades and are manufactured with contoured rosewood handles and sturdy brass rivets for versatility and durability in production environments.
The semi-flexible stainless steel blade is ideal for stirring and mixing colors. These all-purpose spatulas can also be used to remove excess ink from squeegees and screens and are handy for clean-up and maintenance. A.W.T. spatulas are available in boxes of six, with blade lengths from 4 to 14 inches.
From small studios, workshops, and classrooms, to high-output commercial production operations, printers around the world keep print quality high and production costs low with reliable supplies like versatile, all-purpose spatulas from A.W.T.
A.W.T. World Trade, Inc. manufactures and stocks the industry's most comprehensive range of printing supplies. From fabrics and frame adhesives, block-out and sealants, scoop coaters, brushes, and registration pins, to a variety of process control tools, pallets, squeegee blades and handles, emulsion removers, as well as hundreds of other items.
For more information on A.W.T. Spatulas, or any of our other printing accessories and supplies, visit our website at awt-gpi.com//product79.htm or call The A.W.T. World Trade Group, Inc., 4321 N. Knox Ave., Chicago, IL 60641. Phone: (773) 777-7100. Email: sales@awt-gpi.com.
A.W.T. World Trade Inc. (www.awt-gpi.com), the complete manufacturing source for screen printing equipment and supplies, is a division of The A.W.T. World Trade Group. Other divisions of The A.W.T. World Trade Group include Graphic Parts International Inc. (www.gpiparts.com), an industry leader in providing replacement parts and remanufacturing services, and American M&M (www.screenprintmachinery.com), manufacturer of such well-known and respected screen printing equipment as the Cameo, Hercules, Centurian and Daytona presses.
In addition to a worldwide network of distributors and dealers, The A.W.T. World Trade Group has its corporate headquarters and manufacturing facility in Chicago, and a sales office and distribution center in Miami, serving Central and South America.
More from Controls & Controllers