Universal Forest Products Introduces ProWood Micro-The Next Generation of Pressure-Treated Wood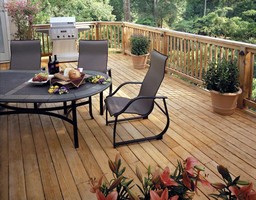 GRAND RAPIDS, Mich., August 14, 2006 - Universal Forest Products (Nasdaq: UFPI), the world's leading producer of pressure-treated wood, today introduced the revolutionary ProWood® Micro treated lumber.

In addition to all the benefits of current pressure-treating technology, this next generation of pressure-treated wood has the added advantage of being less corrosive, so there's no need for expensive nails or stainless steel fasteners. ProWood Micro can withstand harsh weather conditions and is effective for decades.

Like other preserved wood products from Universal Forest Products, ProWood Micro is pressure treated with a waterborne preservative system containing copper and quaternary compounds to protect against termite attack and decay. With ProWood Micro, the copper preservative is micronized, which reduces the corrosive properties. Available today in select markets, Universal Forest Products plans to introduce the product nationwide over the next several months.

The ProWood Micro preservative is forced under high pressure into the cellular structure of the wood to form an insoluble complex that won't break down over time.

ProWood Micro pressure treated lumber is clean and safe for handling and for the environment and has a fresher, more natural appearance than other treated wood. ProWood Micro is also odorless, non-staining and non-irritating to humans, animals and plants, and is ideal for a wide range of outdoor uses, such as structural lumber, decks, docks and railings, landscaping borders and structures, fencing, retaining walls, and many others.

ProWood Micro technology is also available in natural wood-tone colors called MicroShades. As the only commercially available in-solution pigment system, MicroShades provides more consistent coloring, better penetration, and a more natural appearance than manual staining or dying.

With 24 wood treating facilities strategically located throughout North America, Universal is the leading manufacturer and supplier of pressure treated lumber products to retailers nationwide. Universal's staff of dedicated wood preservation scientists use the latest advances in wood preservation technology to provide properly treated lumber that stands up to wood's natural enemies and is safe for humans, animals and the environment.

To learn more about ProWood Micro and ProWood Micro with MicroShades pressure treated lumber, visit www.prowoodmicro.com, or call 800-598-9663.

Universal Forest Products markets, manufactures and engineers wood and wood-alternative products for D-I-Y retail home centers; structural lumber products for the manufactured housing industry; engineered wood components for the site-built construction market; and specialty wood packaging and components for various industries. Universal also provides framing services for the site-built sector. The Company launched a consumer products division in 2005, which quickly has grown to include wood and wood-composite decking and railings; decorative balusters and post caps made of metal and Tiffany-style glass; and other outdoor living products for the spectrum of tastes and budgets.

Universal has approximately 10,000 employees who work in more than 100 locations throughout North America. Sales for 2006 were $2.66 billion. In late 2006, the company announced a growth strategy that calls for it to achieve $4 billion in sales by 2010. For more information about Universal Forest Products, visit the Company's Web site, www.ufpi.com, or call 888-Buy-UFPI.

ProWood is a registered trademark of Universal Forest Products, Inc. MicroShades(TM) is a trademark of S-T-N Holdings, Inc. and is used by Universal Forest Products under license granted by Osmose, Inc.

More from Materials