Unique Water Purification System for Marine and Offshore Platform Industries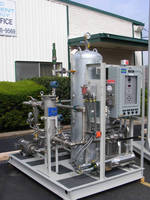 A Unique Water Purification System Meets the Highly Specific Disinfection Needs of the Marine and Offshore Platform Industries

FORT WASHINGTON, Pa. - April 21, 2009 - In the rugged environment of the marine and offshore drilling industry, Severn Trent Services and Specific Equipment Company are working together to offer a unique system that helps meet the potable water needs of their customers. Severn Trent Services' UltraDynamics® line of ultraviolet (UV) disinfection systems are used on potable water pressure sets built by Specific Equipment to pressurize the potable water supply for offshore drilling rigs, platforms, work barges and land-based camps.

The potable water pressure set intakes water from the storage tank and then pumps it through a 5 micron filter to a fresh water pressure tank, and then before going to the rig's potable water system the water is disinfected by the UV system. Systems can be designed to meet application-specific needs, including Class I, Division II compliant UV systems for hazardous area classifications. NEMA 7 and "Z" purge designs are available.

Ultraviolet disinfection is an alternative or supplement to traditional chemical disinfectants for potable water treatment in offshore platform or marine applications. Ultraviolet disinfection is safe and systems are easy-to-operate. UV systems have a small footprint so they can readily be adapted to fit into an existing facility. In addition, the use of ultraviolet does not inject any taste or odor into the processed water, nor does it produce any undesirable by-products.

About Severn Trent Services

Severn Trent Services (www.severntrentservices.com), with global headquarters in Fort Washington, Pa., USA, is a leading supplier of water and wastewater solutions. The company's broad range of products and services is concentrated around disinfection, instrumentation and filtration technologies, and contract operating services. Our analytical services group is the United Kingdom's leading environmental testing organization, and our international operating services business provides worldwide contract operation and support for all aspects of water and wastewater utility operational development and business transformation. Severn Trent Services is a member of the Severn Trent Plc (London: SVT.L) group of companies. Severn Trent is a FTSE 100 company.

About Specific Equipment Company

Specific Equipment Company (www.spec-equip.com), based in Houston, Texas., has been solving water purification and fluid handling problems for customers all around the world since 1967. The company's broad product line includes Reverse Osmosis Watermakers, Potable/Sanitary Water Pressure Sets, Diesel Fuel Filter Coalescers, Oil Water Separators, and Helicopter Refueling Systems.


More from Electrical Equipment & Systems