Turbine Blade Manufacturer Branches Out into VIPER Grinding of Fir-tree Root-forms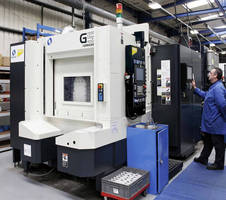 Until the middle of 2010, first-tier subcontract machinist, JJ Churchill, could produce turbine blades only if they had their fir-tree root-forms preground elsewhere, or if they were subsequently added by another subcontractor. No longer is this the case.

Following installation of a VIPER grinder at the company's Market Bosworth factory, near Nuneaton, fir-trees can now be machined in-house. Purpose-built by the Japanese machine tool company, Makino, for grinding tough materials such as nickel alloys with licensed Rolls-Royce know-how, the machine was supplied by Makino-NCMT Grinding Division, Thames Ditton, sales and service agent in Europe and Scandinavia.

The subcontractor's third-generation managing director, Andrew Churchill, explained, "The VIPER process, based on a 5-axis machining centre platform, is accepted as the most cost-effective way of creep-feed grinding nickel alloys for hot-end gas turbine components in a high-mix manufacturing environment.

"It has the extra advantage that milling operations can be performed in the same cycle. So components normally come off the machine finished, unlike with conventional, multiple-machine methods for grinding fir-trees, which have a much larger footprint on the shop floor and create a lot of work-in-progress.

"We also use the iGrinder to produce fir-tree root-forms on compressor blades for the cold end of engines in stainless steel and Jethete, which is quicker than milling and more accurate."

The subcontractor was founded in 1937 by Mr Churchill's grandfather, Walter, to make parts for the Merlin engine in Spitfires and Hurricane fighter aircraft, both of which he piloted during World War 2. From these early beginnings, the company has become one of the leading UK manufacturers of blades for gas turbines. They are used in land-based power generation systems, marine gensets and aero engines, both civil and military.

Customers include Rolls-Royce, BAE Systems, Siemens, ITP and Alstom, while in the additional area of high-horsepower diesel engine manufacture, Cummins and Caterpillar/Perkins are among its clients. The precision machinist generally works as a preferred supplier on long-term projects to develop, test and assemble products with complex geometries in difficult materials.

Mr Churchill continued, "This niche has allowed us to succeed in a global market, even though we are based in a relatively high-wage country.

"Irrespective of whether one is producing prototypes or high volumes, it is essential to buy top grade production equipment to achieve the shortest possible cycle times as well as tight tolerances.

"The iGrinder fits perfectly with this philosophy, as it is the best machine on the market for the applications for which it is designed.

"It is also essential to recruit, train and retain highly skilled people and we run an apprenticeship scheme here to nurture talent in-house."

He went on to say that there is an alternative VIPER grinder design on the market, but it converts a 3-axis machining centre and bolts on a compound table to provide the fourth and fifth axes, rather than building them in, as Makino does. He feels that for his niche markets, this three-plus-two CNC solution compromises robustness and accuracy, albeit capital investment is lower.

Crucially, however, initial grinding trials carried out for JJ Churchill on both machines showed that cycle times were 10 per cent faster on the Makino.

An advanced design feature of the i-Grinder is its programmable coolant nozzles, which can be positioned in two NC axes anywhere through 360 degrees around the grinding wheel to accommodate variations in its diameter as it wears, as well as changes in cutting direction. Machining versatility is consequently increased and cooling of the workpiece at the point of cutting is improved.

In a conventional compressor blade production route, precision forgings are supplied to the Market Bosworth factory with aerofoil surfaces broadly in their finished state. It remains only to mill the leading and trailing edges and complete any shroud end operations required. In so-called advanced production routes, either an oversize blade forging is supplied and profile-milled to the finished aerofoil; or the starting point is sawn round billet from which the entire blade is machined, which includes rough and finish milling the form of the aerofoils, root and shroud.

Supplementing the above machining processes with fir-tree root-form grinding adds considerably more value to the part - around 25 per cent, Mr Churchill estimates. The i-Grinder therefore has the potential to increase turnover significantly. Already a second, perhaps larger machine is being considered for 2012.

Another attractive feature of the VIPER grinder, according to JJ Churchill's jig and tool designer, Paul Hurst, is NCMT's PC-based EasyGrind software. Working on the CAD model supplied by the customer or generated on-site in SolidWorks, it uses custom macros to simplify what is otherwise a cumbersome programming task. Point-to-point grinding wheel paths are assigned automatically according to the geometry of the component, which is especially useful for machining the radial features of the fir-tree.

Several different wheel dressing strategies are supported. At Market Bosworth, the wheel is programmed to visit a table-mounted diamond dresser after an appropriate number of components has been ground. (Continuous dressing is supported on other Makino models.)

There is also a facility to enter separately NC code for milling and other in-cycle metalcutting operations. The software then post processes the entire CAM file before sending it by DNC link to the Makino for blade grinding.

On arrival at the machine, the program data goes first into an EasyCorrect Windows HMI (human machine interface) panel, also supplied by NCMT, on the screen of which appear icons for the fixture and for all of the fir-tree root-form features (typically 10) to be ground. The operator checks every component on a Mitutoyo co-ordinate measuring machine (CMM). After every ten parts or so, offsets are entered into the control to bring the next blade back into the centre of the tolerance band. Feedback from the CMM to the control may be automated in the future.

The initial contract for which JJ Churchill used its new fir-tree grinding capability was in the production of three types of compressor blade for the Olympus turbojet engine, which previously powered Concorde but is now harnessed for industrial and marine power generation. Another job involves making turbine blades in their entirety for cold rig test equipment.

The first aero engine turbine blade on which JJ Churchill will use its VIPER fir-tree grinding capability will be for producing Trent engine blades for Rolls-Royce. It will fill the iGrinder's capacity over two (of three) shifts until mid-2012. (JJ Churchill won Rolls-Royce's global supplier of the year award in 2009.)

Mr Hurst is currently carrying out the usual pre-production routine of first designing the dressing rolls, as their manufacture by Tyrolit has the longest lead-time in the project; then designing the encapsulation fixtures to hold the blades securely during what is an aggressive, high-stock-removal grinding process.

Programming in EasyGrind and cycle simulation in Vericut come last. The latter provides peace of mind before metal is cut, according to Mr Hurst, who describes the 48 m/min rapids and small clearances of the iGrinder's movements as 'hair-raising', although necessary to achieve fast cycle times for a competitive edge.

Mr Churchill's policy of investing between £2 million and £3 million every year in top quality capital plant has been highly successful. Notably, he placed the order for the iGrinder G5 during mid-2009, right in the middle of the recession. While it is known that counter-cyclical investment during a downturn pays even greater dividends than during normal times, few are brave enough to do it.

The firm is set to continue expansion, with the mid-term strategic intention of doubling turnover. With only 40 per cent of its freehold site in Market Bosworth currently in use, the company has plenty of room to grow.

NCMT Limited, Ferry Works, Summer Road

Thames Ditton, Surrey KT7 0QJ

Tel: 020 8398 4277. Fax: 020 8398 3631.

Web: www.ncmt.co.uk

E-mail: daveburley@ncmt.co.uk

Contact: Dave Burley, Managing Director.

THE RIGHT IMAGE Ltd,

PO Box 42, Twickenham, TW1 1BQ.

Tel: 020 8891 0603.

E-mail: chris@therightimage.net

Contact: Chris Wright.

Related