Trelleborg to Continue Work to Maintain the Central Line, Building on More than Two Decades of Partnership with Transport for London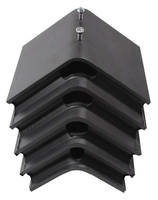 After supplying the original trains in the early 1990s, Trelleborg's industrial anti-vibration solutions operation has been selected to provide London Underground's Central line with a suite of suspension products, to be fitted on over 100 Tube trains.



In the second overhaul since the construction of the original trains, Trelleborg has been chosen to supply its Metalisk® Chevron Springs and range of bushes, thanks to the exceptional service performance of the previous solution and the company's long standing relationship with Transport for London (TfL).



Manufactured in the U.K. and supplied globally, Trelleborg's Metalastik® Chevron Springs have already proven their reliability on metro applications around the world. A typical chevron spring has a linear spring rate but for this demanding application, a bespoke product with a rising spring rate was developed to provide better performance, especially when fully loaded. This resulted in a more controlled operation and longer service life. As part of Trelleborg's commitment to sustainable manufacturing, materials from the removed springs are being recycled, also reducing the impact of its operations on the environment.



Rod Holroyd, Rail Global Market Manager, at Trelleborg's industrial anti-vibration solutions operation, said: "We developed the original Chevron spring back in 1959, and it's testament to our state of the art solutions and the business value they add that we're still selected to supply projects such as this. Our products are developed around the idea of intelligent innovation: progress built on business needs, in this case, low maintenance and longevity.



"For our current project with TFL, we'll supply exact replicas of the original design, proving that basing RD on business requirements is a strategy that doesn't age."



Providing three modes of flexibility for axlebox primary suspensions, Trelleborg's Metalastik® Chevron Springs give improved ride characteristics with the advantages of simplicity, long service life and low maintenance costs. Metalastik® Chevron Springs are operating worldwide in a diversity of service applications including light rail vehicles, metros, freight wagons, high speed passenger coaches and locomotives.



For more information about Trelleborg's Chevron Springs, visit: http://www.trelleborg.com/en/anti-vibration-solutions/Products--and--Solutions/Suspension--Products/Chevron--Product--Range



For additional information about Trelleborg's industrial anti-vibration solutions operation, visit: www.trelleborg.com/anti-vibration-solutions.



For additional information on Trelleborg Industrial Anti-Vibration Systems for rail, marine, industrial or specialist vehicle markets, please call Nicola Quine, Direct: +44(0)1162670422, Mobile: +44(0)7816592888; nicola.quine@trelleborg.com.



For press information: Sarah Suthers at Stein IAS. Clarence Mill, Clarence Road, Bollington, SK10 5JZ, United Kingdom. Tel: + 44 (0) 1625 578 578; Fax: + 44 (0) 1625 578 579. Email: sarah.suthers@steinias.com.



Trelleborg's industrial anti-vibration systems operation and Trelleborg Group

Using advanced polymer technology, Trelleborg's industrial anti-vibration solutions (IAVS) operation specializes in the field of rubber-to-metal bonding for the removal of unwanted noise and vibration. Solutions include mountings, bearings and suspension. As part of the Trelleborg Industrial Solutions business area of Trelleborg Group, Trelleborg's IAVS operations utilizes over 100 years of experience to provide solutions for numerous applications and environments, with a reputation of high quality, performance and service life. Markets include rail, marine, industrial and off-highway. The company focuses on isolation, attenuation and suspension solutions of unrivalled quality and reliability. The company's commitment and expert polymer technologies create maximum business value through improved longevity, productivity and cost effectiveness, while also optimizing comfort, health and safety. www.trelleborg.com/en/anti-vibration-solutions.



Trelleborg is a world leader in engineered polymer solutions that seal, damp and protect critical applications in demanding environments. Its innovative engineered solutions accelerate performance for customers in a sustainable way. The Trelleborg Group has annual sales of about SEK 22 billion (EUR 2.48 billion, USD 3.29 billion) in over 40 countries. The Group comprises five business areas: Trelleborg Coated Systems, Trelleborg Industrial Solutions, Trelleborg Offshore Construction, Trelleborg Sealing Solutions and Trelleborg Wheel Systems. In addition, Trelleborg owns 50 percent of TrelleborgVibracoustic, a global leader within antivibration solutions for light and heavy vehicles, with annual sales of approximately SEK 16 billion (EUR 1.78 billion, USD 2.36 billion) in about 20 countries. The Trelleborg share has been listed on the Stock Exchange since 1964 and is listed on Nasdaq Stockholm, Large Cap. www.trelleborg.com.  

More from Controls & Controllers