TraxStar Technologies Enhances Auto-Scheduling in Lab Management Solution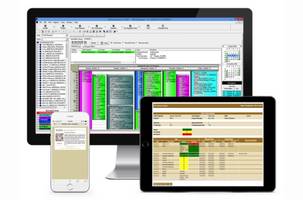 TraxStar Technologies enhances lab management solution with Auto-Scheduling.
WALNUT CREEK, Calif., Nov. 10, 2016 - The latest releases of QATrax Global and Enterprise Editions with Auto-Scheduling provide exponential improvements in the workflow automation of assigning and scheduling test lab resources, thereby dramatically improving test laboratory operating efficiency. Benefits include heightened visibility of projects, tests and schedules across the organization, resulting in faster time-to-market for new products.
The Global Edition of QATrax 4.1 provides these and other benefits for a single laboratory, accessible from any location worldwide, while the Enterprise Edition provides similar benefits for a group of laboratories, including those with projects spanning multiple sites.
Auto-Scheduling and Re-Scheduling is a core functionality offered by QATrax. QATrax integrates this functionality in the test request and testing process, rewarding management, engineers and technicians with real-time visibility, central to efficient test lab management and effective testing. Decisions made from the vantage of real-time visibility reduce uncertainty in the product testing cycle, which, in turn, results in fewer delays in getting product to market.
QATrax features include:
Visibility – personalized grid and calendar views with secure global access across the Internet
Standardization – consistent application of workflow rules helps meet ISO and quality standards
Flexibility – define tables and terms, customize to an individual user level
Central Data Repository – a single source for testing workflow and documentation
Global Solution – understands time zones and adapts for differences in local/client and server times
Auto-Scheduling and Re-Scheduling
Assigns validated resources automatically, both equipment and people
Project, Work Request, Work Order and Test Plan orientations
Manage Equipment – availability, maintenance and calibrations
Manage People – availability and certifications
Track Labor and Equipment hours
Build Metrics and Reports – varying granularity and ability to export for more in-depth analysis
QATrax, unlike all other test lab management solutions, is specifically designed for the test lab environment and can track project plans from inception to production. QATrax understands work requests, equipment or devices under test, test methods and test sequences and is designed to support quality standards including ISO 17025.
About TraxStar Technologies
TraxStar's core strength is complex scheduling in dynamic environments. Organizations maximize return on investment by speeding time to market, establishing best practices, and providing project visibility to all participants, from executives to team members. The company focuses QATrax on a broad range of discrete manufacturers.
Contact Information – TraxStar Technologies, LLC
Information about TraxStar and its products can be found at http://www.traxstar.com.
Contact TraxStar at (800) 943-7759 or info@traxstar.com for additional information.
TraxStar and QATrax are registered trademarks of TraxStar Technologies, LLC.
Media Contact:
Patrick Irion
(925) 943-7759
SOURCE TraxStar Technologies, LLC
Web Site: https://traxstar.us
More from Services