Trapeze Networks Introduces Class Leading 802.11n Wireless Access Point for Middle East Markets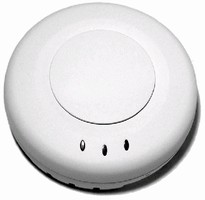 Offers 700 percent data throughput increase over current generation technology without requiring expensive network upgrades

June 27, 2007

Trapeze Networks, the award winning provider of Smart Mobile Solutions, has launched its Mobility Point 432 (MP-432) class of wireless ACCESS POINTS that are based on the new high throughput 802.11n wireless standard. The Mobility Point 432 ACCESS POINTS deliver the highest possible performance in Wireless Local Area LANs, with data transfer rates up to 700 percent higher than current generation access points.

"Enterprise customers in the Middle East are realizing the advantages of wireless LANs, with their advantages of fast and secure data transfer within enclosed spaces, offering mobility without wire encumbrances. Higher volumes of data have meant that firms are looking to the new 802.11n IEEE standard to cope with traffic, but have abstained from making the switch because of prohibitive costs. Trapeze, with its aggressive R&D and market research gearing, quickly identified the problem and our MP-432 ACCESS POINT offers seamless 802.11n functionality without incurring additional expenses," noted Feras Zeidan, Regional Manager - MEA.

The next generation MP-432 leverages Trapeze's unique Smart Mobile Architecture to ensure that wireless traffic does not have to pass through WLAN controllers, allowing dramatically higher output without requiring expensive upgrades to existing infrastructure. The MP-432 adheres to industry standards and complies with the IEEE 802.11n draft 2.0, which means that the technology is certifiable under IEEE certification schemes, and also fully supports legacy protocols such as the 802.11a/b/g.

A Madar Research study estimates wireless hotspots having grown up to 233 percent between 2005 and 2006 as individuals and businesses realize the productivity benefits of unfettered access. The study also estimates that some 250,000 users were taking advantage of wireless access through public hotspots by end 2006.

"Wireless technology in the Middle East has taken off both in leisure and corporate spheres, and has spurred the implementation of technology infrastructure to support user requirements. Market estimates indicate exponentially rising demand for wireless infrastructure, and Trapeze Networks will work with customers and partners to ensure that it remains ahead of the technology curve," Zeidan said.

About Trapeze Networks
Trapeze Networks delivers Smart Mobile(TM) - a ground-breaking approach to wireless networking, enabling organizations to deploy massively scalable mobile applications that leverage their existing infrastructure. Smart Mobile achieves this breakthrough by introducing intelligent switching, the first and only WLAN architecture that optimizes network traffic based on the underlying application. With Smart Mobile intelligent switching, organizations can support the most demanding next generation wireless applications such as toll-quality voice over WLAN for thousands of users, seamless indoor/outdoor mobility, and high-speed networks based on 802.11n - all without requiring expensive forklift upgrades. Trapeze Networks is well-capitalized, with strategic investments from networking industry leaders including Juniper Networks, Motorola, and Nortel Networks. Founded in March 2002, Trapeze is headquartered in Pleasanton, California, with operations in Europe, Japan, and Asia-Pacific. For more information, please visit www.trapezenetworks.com.

More from Mechanical Power Transmission