TPEs 'Translate' Precisely for the U.S. Military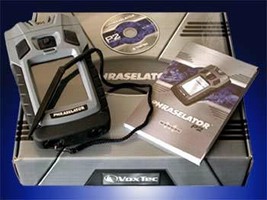 TPEs from GLS Corporation for Translation Device Contribute to Use and Durability

McHENRY, IL (August 9, 2006) - The U.S. military has a new "weapon" in its arsenal, a product that might be associated more with tourists than with the military. And interestingly, very much involved is a U.S. firm which one wouldn't normally associate with supplying goods for military needs - GLS Corporation, a leading manufacturer of thermoplastic elastomers - TPEs. This material is increasingly finding widespread use in military applications.

The product for the military isn't a weapon at all, but a compact, hand-held, TPE-encased one-way language translator. Since its inception just a few short years ago, it is now being used throughout the world by U.S. military personnel. In operation, a U.S. soldier, for example, simply speaks into the unit in English whereupon the Phraselator® P2 by VoxTec International, Inc. of Annapolis, MD, immediately repeats what is said, back through a speaker, in any pre-programmed language such as Urdu, Arabic, Dari or Pashto and other languages or dialects spoken in the Middle Eastern countries such as Iraq, Iran and Afghanistan.

Commands and phrases can range from, "Put your hands up" and "I'm here to help you" to "Show me where it hurts." Thousands of phrases, translated in various languages by native linguists, can be stored on a Secure Digital (SD) card and loaded into the unit. The Phraselator® P2 allows users to offer instruction, give commands, relay important information or ask questions with total communications accuracy.

Solution Pursued by Former Navy Seal and His Team

Former Navy Seal Ace Sarich, during his Navy career, often experienced difficulties communicating with local nationals and military in countries where he was assigned. When presented with the opportunity to work on language technologies for warfighters under a DARPA SBIR (Small Business Innovation Research) grant, he formed the VoxTec division of Marine Acoustics, Inc., which today is an independent company known as VoxTec International, Inc. VoxTec fielded prototype Phraselator® handheld translation devices to Afghanistan in early 2002 in support of Operation Enduring Freedom. VoxTec's current model, the Phraselator® P2 is used by U.S. military worldwide and domestically by civilian police departments. It remains a practical solution for complex linguistics obstacles and challenges.

TPEs a Preferred Choice for Moldability and Durability

Helix Design officials, the chosen design firm for the Phraselator® P2 unit, knew that the usefulness and applicability of the unit would only be as good as its durability in the field. So, Helix, long a proponent of GLS TPEs, designed in TPEs as an integral part of the housing and selected components.

Custom molder Dynamic Plastics of Chesterfield Township, MI, has, for a long period of time, been a preferred molder for both Helix Design and GLS TPE compounds, for reasons that include this molder's ability for quick art-to-part turnaround. Time constraints required Dynamic to produce the required 14 molds in just four weeks to get the Phraselator® P2 off the ground and into production.

The specific material chosen by Helix was to ensure users of Phraselator® P2 would always have a solid grip on the product under all weather conditions, plus make it impervious to chemicals and oils, and protect it in the event it is dropped. Specified was a rubbery GLS TPE alloy, marketed under the name Versalloy® XL9070X-9 to complement the PC ABS resin used for the body of the unit. The TPE is used on housing along both sides of the translating instrument and the base. Other areas where the TPEs are used include that battery door, audio jacks and two inner seals, for waterproofing purposes.

The primary benefits of the TPEs begin with their ease of processing, with overmolding/two shot molding both accelerating the molding process and eliminating additional production steps. Sources report that the grade of TPE selected also contributes to the durability of the product, citing attributes such as ruggedness of the TPE in field conditions for both weather and wear-resistance. For a unit of this type to be accepted for military use, the TPEs also played a large role in the drop-test/lab certification tests and standards.

GLS Corporation specializes in the manufacture of application-specific custom formulated soft and ultra-soft thermoplastic elastomers (TPEs) for injection molding and extrusion. GLS has supplied specialty TPEs to the industry since 1979, and is recognized as a global leader in TPE technology solutions. Specific products sold by GLS include proprietary DYNAFLEX® TPE compounds based on KRATON® polymers (available in injection molding and extrusion, as well as medical and FDA grades); VERSAFLEX® TPE specialty alloys (available in soft touch, lightweight, ultra-soft, ultra-clear and overmolding grades); VERSALLOY® TPV alloys; and VERSOLLAN(TM) TPU alloy compounds. GLS is also the exclusive distributor of KRATON® compounds and polymers for the compounding market in the United States, and also distributes KRATON compounds and polymers globally. Applications for these materials are found in consumer, medical, sports and leisure, automotive, lawn and garden, appliance, kitchen tool, power tool, personal care and industrial markets, among others.

For more information on the TPEs used in this new application, or for assistance finding TPEs suitable for any other type of application, contact: Marketing Department, GLS Corporation, 833 Ridgeview Drive, McHenry, IL 60050-7050. Telephone: (815) 385-8500 or (800) 457-8777. Fax: (815) 385-8533. E-mail: info@glscorp.com Web: www.glscorp.com.

In Europe, contact: Mr. John Simons, Business Development Manager, GLS International, Inc., P.O. Box 19, 4410 AA Rilland, The Netherlands. Tel: 31 113 551 093. Fax: 31 113 551 094. E-mail: jsimons@glscorp.com. Web: www.glscorp.com.

In Asia, contact: GLS Hong Kong Ltd., Room 5, 5/F, Block B, Veristrong Industrial Centre, 34-36 Au Pui Wan Street, Fo Tan, Shalin, N.T., Hong Kong. Tel: 011 852 2690 5330. Fax: 011 852 2690 5223. E-mail: wlau@glscorp.com. Web: www.glscorp.com.

Information on Phraselator® handheld translation devices can be obtained from: VoxTec International, Inc. 20 Ridgely Avenue, Annapolis, MD 21401. Tel: 410-626-1110. Fax: 410-626-1112. Web: phraselator.com. E-mail: shannon@dooman@voxtec.com.

For information on Helix Design, contact the company at 250 Commercial Street, Suite 3007, Manchester, NH 03101. Tel: 603-644-1408. Fax: 603-644-1409. Web: www.helixdesign.net. E-mail: info@helixdesign.net.

For information on the molder, contact: Dynamic Plastics, Inc., 29831 Commerce Boulevard, Chesterfield Township, MI 48051. Tel: 586-749-6100. Fax: 586-749-4455.
Web: www.dynamicplastics.com. E-mail: sales@dynamicplastics.com.

More from Thermal & Heating Equipment