Tower Elevator Systems, Inc. Manufactures Custom VRCs for GlobalFoundries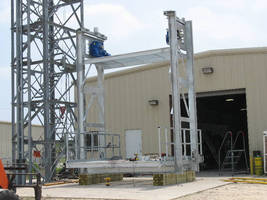 AUSTIN, TX - Tower Elevator Systems, Inc. (TESI) was chosen to custom design and manufacture two 20,000 lb Vertical Reciprocating Conveyors (VRCs) for GlobalFoundries, a computer chip manufacturer, which is building a $4.6 billon dollar chip fabrication plant in Saratoga County, New York.

"These two 20,000 lb VRCs with 12' x 12' platforms and 35' of lift are designed for non personnel lifting and are separate and distinct from the personnel elevators we build" said TESI's founder and CEO, Jim Tiner. "The reason I believe TESI was selected by GlobalFoundries to custom design and build these two very large machines is because our higher technology brings a level of safety and reliability to the machine that they wanted. Specifically, other manufacturers use either cable on a winch, or chain with a sprocket drive to provide the lift mechanism. What we've done is adapt the Rack and Pinion drive we use for personnel elevators to do the lifting, which is as a more reliable and robust lifting method. That, in conjunction with bringing a more user friendly, feature rich controller system, we felt got us the order," Tiner elaborated.

"There are many applications for VRCs which can be as simple as raising supplies from a loading dock to a mezzanine level, one story high or could be as complex as being integrated into a computer driven process and incorporated into warehousing using GPS controlled robots. A VRC is a material lift or freight type device, it's not an elevator, and is designed to a different Code. Licensing and permitting are different then for an elevator. We are the only company offering only Rack and Pinion technology for VRCs. It's the safest on the market and when you consider the long life and reduction of liability exposure, I think it is the best choice." explained Tiner.

"The benefits of using a TESI designed Rack and Pinion drive VRC are very significant when compared to the other established mechanical methods of lifting. Rack and Pinion drive is a direct gear tooth engagement insuring no hang-ups or tangled cables. Other systems use a secondary lifting apparatus, such as a winch cable or chain, which are more difficult to inspect and maintain. Additionally, we are using a Gear Lock safety braking system which ensures that our machine stops and holds no matter what; it cannot "free wheel" by design, so there is no worry about a broken cable or chain letting the platform fall. This is much safer than relying on a mechanical "dog" or chain grab for a safety system, which should, but might not engage and could break if the shock is too great. Rack and Pinion drive has been proven safer in elevator applications, has a longer useful life, and is easy to maintain making it the most cost efficient value for the customer. "When you want the safest lift and long term value for your capital investment, Rack and Pinion drive is the best choice," said Tiner.

Founded in 2002 by Jim Tiner, TESI is a licensed and insured US based custom manufacturer of industrial Rack and Pinion elevator systems and VRC's created to bring improvement and innovation to this very specialized niche market. Tiner has been involved with industrial construction, service and manufacturing for over 40 years. TESI's philosophy is to embrace and implement new technology solutions for maximum safety and usability in their products.

TESI has been awarded jobs from the Federal Government, Black & Veatch, Audubon Bridge Constructors, Chicago Bridge and Iron, CEMEX and other large organizations. Additionally, TESI has been qualified by Siemens, SEW-Eurodrive, and other prominent manufacturers for inclusion of their products into the TESI personnel lifting elevators.

TESI manufacturers elevator systems, including UL classified controllers, at their production facility in Austin, TX. The fabrication and quality processes have been developed to insure consistency and code compliance. TESI manufacturing procedures are AWS (American Welding Society), NFPA-NEC, and follow ISO9001 with frequent quality inspections by both customers and suppliers. The facility is equipped with an 80-foot tall testing tower, allowing customers the opportunity to observe the full function, load and speed testing of their systems prior to shipment.


More from Fasteners & Hardware