Thermacut Offers Anti-Spatter and Cooling Fluids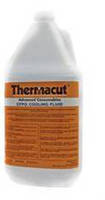 Thermacut is proud to introduce three new welding chemical products, a heavy duty anti-spatter and two unique glycol-based cooling fluids.



Thermacut's heavy duty anti-spatter is a non-flammable, solvent-based anti-spatter which quickly evaporates to provide an effective surface coating. By preventing spatter build-up in welding applications Thermacut's solvent-based anti-spatter eliminates the need to grind or brush the surface after welding, saving time and money in the weld process; thus speeding up the workflow of production.



Thermacut cooling fluids are designed and recommended for use in Plasma, TIG, MIG, and resistance welding systems as well as general industrial applications. The two different Thermacut cooling fluids eliminate the hazards of damaging mineral deposits, which are built up internally during the welding or cutting operation. The coolants also lubricate the pump, the liner, and the gasket and seal; thus extending the time between servicing. Thermacut's coolant is thermally stable and its dielectric properties make the cooling liquids suitable for plasma and arc welding, as well as for tungsten inert gas welding systems. Product conductivity certifications are available for both formulas.



Thermacut CFPG cooling Fluid (Anon-hazardou sblend) is an inhibited blend of di-ionized water and propylene glycol; this formula is non-toxic and safe for use in areas where people may come in contact with the coolant. Its corrosion inhibitors protect iron, steel, aluminum, brass, and copper components.



Thermacut CF2 cooling fluid is an inhibited blend of di-ionized water and ethylene glycol. Ethylene, CF2 has a lower viscosity and doesn't require as much power to pump.



Contact Thermacut for further information concerning the products listed above at:



THERMACUT INC.

153 Charlestown Road

Claremont, NH 03743

Tel: 800-932-8312

Fax:800-972-6255

sales@thermacut.com

www.thermacut.com



Thermacut is in no way affiliated with the above-named manufacturers. References to the above-named machines, torches, consumables, and reference numbers are for convenience only. Most Thermacut parts are made for or by an IBG company.