There is an Alternative to Methylene Chloride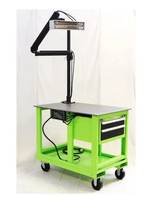 The Light Wave Stripping Option
Bradely, Ill., March 26, 2019 /PRNewswire/ -- With the recent banning of methylene chloride-based paint strippers for residential use by the EPA, many professional painters and other contractors are wondering what they can use to remove old paint from surfaces.  These contractors are also worried that the EPA might also ban methylene chloride for commercial use as well.  While methylene chloride is toxic to the human body, and has caused over 60 deaths, painters could argue that it removed old paint pretty well, or better than most chemicals, in spite of the dangers.
There is an alternative paint stripping method that is much safer, but it is not another chemical.  It is called the Light Wave Stripper, which utilizes advanced infrared technology.  Restoration Works Inc., a Green window and door restoration company, has been stripping paint off of wood for over 35 years in the most environmentally friendly way possible.  In their evolution of applying Green restoration techniques, five years ago they started researching alternatives to chemical strippers.  They incorporated a separate company, Light Wave Stripping Inc., and brought their research to fruition.  They invented, developed, and have a patent pending for the Light Wave Stripper.  Their hope is to revolutionize the way paint stripping is done in America.
By simply placing a Light Wave Stripper over a section of wood for 60 seconds, multiple layers of paint are loosened and lifted, and the paint can easily be scraped off.   "There is no comparison to anything else out there. You would not want to go back to using chemicals for stripping once you have tried the Light Wave Stripper," says Gail Wallace, company President. "It is much safer, easier, and faster than using chemicals."
It removes paint at 250 degrees F, well below the level where lead-based paint can fume which is approximately 600 degrees F, or where wood can combust which is approximately 500 degrees F. It is much more cost effective since you have no chemicals to buy, apply, or clean up.  It is so fast that you can strip paint in a quarter of the time and save on labor costs.
While the Light Wave Stripper is a more heavy-duty industrial tool, and was designed for the professional who does volume stripping, Light Wave Stripping Inc. is hoping to supply tool rental companies with this tool in the future.  The 19" hand held model, even though industrial grade, can be used by do-it-yourselfers.  The tool is a commercial tool that has bulbs that are rated for 10,000 hours of use, for example, and due to its initial cost, a DIY would not buy one or need one. It is ideal as a rental tool, however, since it is easy to use and weighs only 15 lbs.  There are scaled down versions of different infrared type devices available on the market for stripping that match up better with residential needs, but they overheat pretty quickly and lack temperature control.  There are also heat guns available, but those remove paint at a much higher temperature and have been known to cause fires if not used with care. 
Restoration Works Inc. has been using different sized modules of the Light Wave Stripper up to 58" wide for 5 years now with great success.  Their strippers are hung from the ceiling, mounted on articulating arms.  Stripping production has increased dramatically because the paint removal process is so quick, and toxic waste has decreased dramatically (by up to 90%) because no chemicals are needed.  Whether used in a shop setting or on a job site, the Light Wave Stripper saves time and therefore money.  The methods that have been traditionally used to strip paint are not only dangerous, but time consuming, onerous, and bad for the environment and human beings.  In addition, all of the spent chemicals from paint stripping have to be disposed of properly by a licensed hauler and brought to special landfills.
Restoration Works Inc. and Light Wave Stripping Inc. won an award in Oct. 2017 from the Illinois Sustainable Technology Center for "having demonstrated a commitment to environmental excellence through outstanding and innovative sustainability practices."  Winners are selected through a rigorous process of review and examination by ISTC experts.  This award recognized all of the sustainable practices Restoration Words Inc. has developed, but especially their stripping method, the Light Wave Stripper.
Light Wave Stripping Inc. is now introducing their stripping devices to the market.  "If this method of Green stripping can help change the paint stripping industry and eliminate some of its chemical use, it will steer us in a new direction toward a cleaner environment, and be another step toward alleviating Climate Change," says Gail Wallace.  For more information call 815-937-0556 or visit our websites at www.lightwavestripping.com & www.restorationworksinc.com
About Light Wave Stripping Inc.

Light Wave Stripping Inc, is a 2 -year-old company focused on the development and commercialization of the Light Wave Stripper.
About Restoration Works Inc.

Restoration Works Inc. is a 36-year-old company that has focused on the historic restoration of windows and doors.  They have restored windows on many high-profile buildings such as the Rookery, Orchestra Hall, the Old Water Tower in Chicago, Silliman College, The Yale University Art Gallery at Yale University, Building #3 at the National Institutes of Health, and many other projects in the Washington DC area.
Contact: 
Gail Wallace
Light Wave Stripping Inc./Restoration Works Inc.
Phone:  815-937-0556
Email: [email protected]
Source LightWave Stripping Inc.
Web Site: http://www.lightwavestripping.com