The World's Most Compact Push-Pull Robot Welding Torch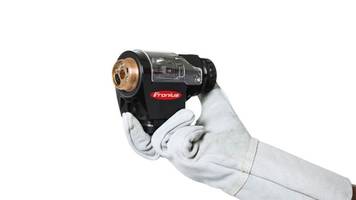 Fronius has launched the world's most compact push-pull robot welding torch: the Robacta Drive TPS/i. Thanks to its compact design and refined engineering, the component accessibility and TCP precision of the welding torch has been improved even further. What's more, the dynamic of the drive unit has been increased to 33 m/s² – ten-times that of its predecessor generation. A consistent, modular structure not only eases the workload of servicing engineers, but simplifies the storage of spare and replacement parts as well. With all these benefits the Robacta Drive TPS/i allows even more welding tasks to be economically performed with robots.
Available as either a gas-cooled or water-cooled version, the welding torch can now be fitted to robots capable of supporting just 3 kg thanks to its extra-small interference profile and reduced weight. Yet despite its small size, the lightweight torch packs a powerful punch thanks to its three-phase stepper motor: a maintenance-free unit for smooth wire travel at a speed of up to 25 m/min. The speed is kept constant by an integrated, highly accurate rotary position encoder, while two driven feed rollers transfer the speed to the wire electrode. In the event of a change of the overall system, the TCP accuracy of 0.5 mm is guaranteed.
To deliver an even more cost-effective solution, the Fronius engineers have adopted a consistently modular approach to the new welding torch's structure, meaning that the hosepack and drive unit of the Robacta Drive TPS/i are connected via a standardised connection with a union nut. As the connection to the power source is also established through a Fronius System Connector (FSC) housing all the necessary media and signal lines, the hosepack can be exchanged in no time at all. This modularity also allows the drive unit to be used with robot types featuring either an external hosepack or a hosepack routed inside the robot arm for the first time.
Well thought-out details such as the easy way of setting the contact pressure using a tool-free adjusting screw and instructions on the display all help to deliver even higher levels of availability. Just as impressive is the ergonomic user interface, which boasts a clear dot-matrix display and pre-assigned buttons for the wirefeed and gas test as well as an unassigned function key that can be programmed as desired.
The Robacta Drive TPS/i universal robot welding torch ensures that users can turn to robot-assisted welding in an even greater range of applications.