The Vim Furnace for Casting Copper Alloys Has Arrived in India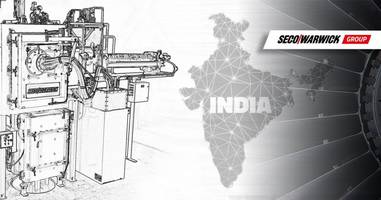 SECO/WARWICK's single-chamber, 50 kg capacity VIM furnace for casting copper alloys has arrived in India.
VIM – the leading furnace technology in vacuum metallurgy 
The solution on order is a VIM 50 kg vacuum induction melting furnace. The furnace is unique due to the maximum vacuum level that can be achieved – in the range of 10-6mbar. It is one of the most frequently chosen solutions in vacuum metallurgy due to its innovative design, reliability, and thanks to automation, process repeatability. It is distinguished by a modern control system and precise systems for alloy additive dosing. Various metals can be processed in vacuum metallurgy furnaces, for example, titanium and its alloys, tantalum, tungsten, niobium, zirconium, silicon, nickel, and cobalt alloys.
"VIM induction furnaces are one of our Group's flagship products. Its popularity among recipients is due to very advanced technology and excellent production parameters. This is the leading solution in the vacuum metallurgy product group. The highest quality, excellent materials and perfect parameters make VIM furnaces in demand by the automotive, aerospace and foundry sectors, and thus, they are an excellent product on the market," explains Binoy Koshy, the new Managing Director of SECO/ WARWICK India.
The VIM furnace popularity and the growing importance of vacuum metallurgy is a consequence of the constantly changing production needs of heavy industries. In the aerospace industry, for example, state-of-the-art jet engines use advanced monocrystalline cast blades. The VIM furnace is famous for its high efficiency and low operating costs. The user-friendly control system ensures precise processes: casting, temperature control, as well as comprehensive data collection. These are some of the advantages of this unique furnace. Thanks to the design, it ensures high repeatability and unrivaled throughput.
This year SECO/WARWICK plans to develop production in India based on cooperation with local partners. In January 2023, the Indian company was headed by a new Managing Director - Binoy Koshy, who will oversee the entire process.
"We are analyzing the development of assembly in India, and we want to expand the company's business footprint through local production of vacuum furnaces and the aluminum segment product group. It will not require large investments. It is more about renting halls and finding subcontractors. Due to the changing expectations of Indian customers and the current geopolitical situation, we would like to have two possible production locations in Asia. Next to China, the second manufacturing zone will be in India. Such an operational structure would also help optimize the Group's costs," said Sławomir Woźniak, CEO of the SECO/WARWICK Group.
Media Contact:
Katarzyna Sawka
Vice President Marketing
SECO/WARWICK Group
180 Mercer St.
Meadville, PA 16335
+4-851-281-1648
katarzyna.sawka@secowarwick.com