The Metal Shop Installs New 3D Printer to Enhance Service Offerings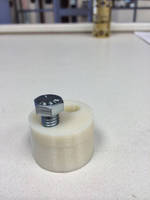 The Metal Shop is excited to announce the installation of it's Fortus 400 3D printer. This machine is a true manufacturing machine. Real, usable parts can be made for prototyping and short run production.  The build window is quite large, 16"x14"x16", this will accommodate most projects customers may have. ABS and Polycarbonite are two types of plastic which can be run in the machine. 3D printing is a great way to prove out designs before actually going to full prototype units. Changes can be applied and re-done quickly compared to conventional prototyping methods.



The Metal Shop hopes the addition of the 3D printer will open new opportunities for current clients and to bring in new customers as well. Getting  a quote is as easy as saving your 3D model to an STL file and sending for quote.



More from Electrical Equipment & Systems