The Co-Ax Valve is the Better Way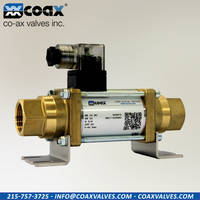 Co-ax valves inc. is able to supply you with a valve that is designed for high cycle life and will operate trouble free even in the most difficult of applications. You no longer have to put up with wire stripped seats, leaking stem packings, expensive bulky actuators, slow actuations and marginal shut-off.
Co-ax valves are designed like your machines, "to give you a long lasting quality product." Why risk your reputation by using everyday valves when you can install a co-ax valve and forget about it until you decide to buy another machine.
The co-ax valve is not a ball valve, gate valve, globe valve, pinch valve or diaphragm valve. co-ax valves have been used in all manners of applications from air to abrasive slurries. They are available with threaded and flanged connections, and sizes 1/8?" to 10" (pneumatic, hydraulic and solenoid operation depending on size).
For further information or if you have any questions please contact us at 215-757-3725 or email us at info@coaxvalves.com.
Co-ax valves inc.
1518 Grundy's Lane
Bristol, PA 19007
Phone: 215-757-3725
Url: http://www.coaxvalves.com
Contact:
Nick Deterding
Email: nick@coaxvalves.com
More from Materials