Thailand C3 System Install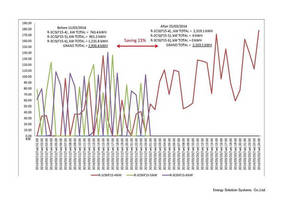 MicroCool's Thailand Distributor (Energy Solutions), recently completed installation of a Condenser Coil Cooling System (C3 System) for a well-known camera company. Preliminary results show a 21% reduction in energy usage and less consumption in the higher tariff areas. The system uses an IBEX 4 pump unit with flexible nozzle line that is mounted equally on either side of the condenser coil. Reverse Osmosis water was supplied directly by the factory for the unit.



The system is controlled by a MicroCool Vector controller that activates over a temperature set point but if the humidity reading reaches the "high" set point, the system shuts down.  The cooling potential reduces at high humidity levels as the fog droplets are slower to evaporate.  We now have a satisfied customer who has superb energy saving results.



More from Material Processing