TecMaster Earns Award at Annual AIMCAL Award Competition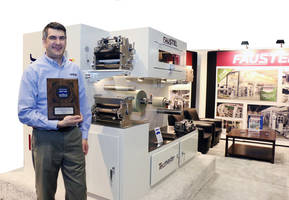 This past spring has been a successful season for us at Faustel. We are very proud to announce that during the month of April, our TecMaster R&D Coater/Laminator received a Technical Excellence award at the 2017 AIMCAL Awards Competition. This award was under the 2017 Technology of the Year Coating/Laminating Equipment/Accessories Category, and we are very honored to be recognized for making a positive impact in the industry.
The TecMaster R&D Coater/Laminator is designed for small-scale, early-stage product and process development. It helps predict coating and substrate characteristics in various coating/laminating operations, before scaling up to production-level equipment. The TecMaster makes it easy to perform in-house coating trials on a variety of substrates and make adjustments to chemistries, processes, and methods for various coating and laminating operations before moving up to larger-scale pilot and production lines. The TecMaster's small footprint allows it to roll through laboratory doors for effortless installation, transportation, and relocation. Packed with features and flexibility, it's a smart addition to any coating development lab.
According to one of the judges from the competition, "This machine provides an easy environment for research and will reduce the time needed to develop new products." Another judge said, "The alternative is to schedule an hour on a production coater - which simply isn't practical in many situations."
This competition is hosted by the Association of International Metallizers, Coaters and Laminators, which recognizes new technology that has a significant affect on the converting industry or the consuming market. The technology could be a product, material, process, equipment or system. We at Faustel hope to continue to make a difference in the converting industry and thank the 2017 AIMCAL Awards Committee for this recognition.
For more information on the TecMaster R&D Coater/Laminator, as well as additional Faustel technology, contact us at 262-253-3333 or [email protected].
Faustel Inc.
W194 N11301 McCormick Drive
Germantown, WI 53022
Phone: 262-253-3333
Contact:
Chris Clark
Faustel Vice President - Technical Sales and Marketing
email: [email protected]