Techno CNC Router 2015 Tax Incentives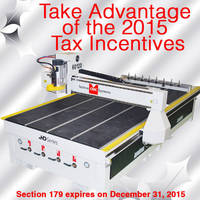 HD and HDS CNC Router Models are stock and ready to go for your end-of-year purchase! Now is the time to invest in new equipment — Call Techno today to discuss your options!



Section 179 is the area of the IRS tax code created to help businesses reduce their tax liability. Take Advantage of the 2015 Section 179 Tax Credit! Section 179 is an excellent incentive for businesses to purchase, finance, or lease equipment this year. See how much money you can save.



Section 179 Federal Income Tax Deduction: $25,000 Write-Off

• This deduction allows a company to deduct the first $25,000 of equipment (Section 179 Property) purchased in 2015 from their taxable income. For companies purchasing (or leasing - with a $1 or $101 buyout) up to $200,000 of equipment in 2015, this deduction is available in full. It then phases out on a dollar-for-dollar basis for amounts over $200,000. $1 and $101 buyout leases qualify.



Standard Depreciation for Machinery in 2015

• In addition to the $25,000 write-off, companies may be eligible to deduct federal depreciation on the adjusted basis of their qualified equipment, state depreciation, local tax incentives and interest expenses.



Your business equipment or software MUST be put in place and in use by December 31, 2015 to qualify. Always check with your accountant to confirm eligibility for tax benefits.



Section 179 is simple to use! All you need to do is buy (or lease) the equipment and use IRS Form 4562. HD CNC Routers are starting at $23,000 and HDS CNC Routers are starting at $45,000. Visit www.technocnc.com and see these CNC Router specs and testimonials today.



More from Computer Hardware & Peripherals