TDM Systems to Feature Tool Data Management Solutions at IMTS '18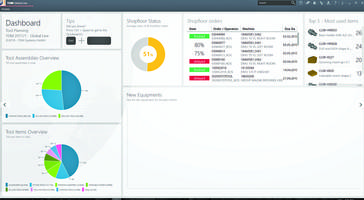 Schaumburg, IL –TDM Systems will showcase a variety of its Tool Data Management solutions including: TDM 2018, TDM Global Line 2018, and TDM Cloud Line in booth 133264 during IMTS 2018. September 10-15, McCormick Place, Chicago, IL. The company will demonstrate how its latest software modules and cloud-based tooling can be used in a smart factory to record and manage production resources.
With TDM 2018, numerous new functions and interfaces such as data import, data handling and graphics editing have been optimized. This will save the user time, in part, thanks to the increased level of automation.
The company will showcase TDM Global Line 2018. As part of this line, the TDM Shopfloor Manager and TDM Machine Process Control (MPC) modules will ensure more transparency at the manufacturing level. One of the highlights of TDM Global Line is the 3D tool assembly. TDM Systems will illustrate how simple it is to build the tools in 3D. TDM Systems will also demonstrate how this solution can be used to manage the tool crib efficiently.
TDM Systems is adding TDM Cloud Line to its product range to make Tool Data Management suitable for smaller companies. The company will present the TDM Cloud Line "JobShop" and TDM Cloud Line "Tooling" solutions. These entry-level solutions enable companies such as contract manufacturers to optimize their plans and the use of their tools. Users can "get started with both solutions all they need is a computer and a web browser."
TDM Systems will also be featured in the Omega TMM booth 431900 and the Allting booth booth 121539.
For more than 25 years, TDM Systems has been the leading provider of tool data management in the machining industry. With the Tool Lifecycle Management strategy, TDM Systems is focusing on process optimization through optimal tool planning and provisioning. Creating and editing tool data and graphics, integrating tool know-how and 3D graphics into the CAM planning and organizing the complete tool cycle on the shop floor level are the three core competencies of TDM Systems. As a competence center within the Sandvik Group, TDM Systems draws on the expertise of various tool manufacturers in developing its software products. www.tdmsystems.com
TDM Systems
1901 N. Roselle Suite 800
Schaumburg, IL 60195
847. 605.1269 www.tdmsystems.com
 For further editorial information contact:
Ed Szykula, KST Advertising & Public Relations
szykula@ksthip.com
More from Agricultural & Farming Products